23rd September 2023

Author: Stephen Ball
---
Bohermeen into the East & South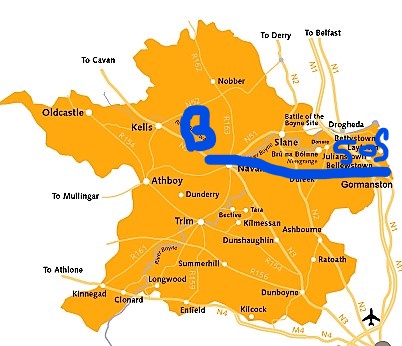 Bohermeen athletes will be following the blue line to the 33rd annual Star of Sea cross country, not quite to the beach but close and maybe a visit on the way home, the first race is at 11am sharp and the venue is Grenanstown, Stamullen, Co. Meath and will be signposted from Bellewstown. As they say stress is for steel and pressure is for tyres, so allow yourself time to get there, chill, and warm up before your respective race. The SOS cross country meet is the traditional start of the cross country season in Meath and precedes the Meath cross country championships, which take place at Navan Adventure Centre on Sundays October 1st & 8th. Some members are also heading to the Rathfarnham 5k on Sunday and maybe some to other venues.
13th September 2023

Author: Stephen Ball
---
Meath Cross Country Fixtures
Meath Cross Country Championships 2023 Bohermeen adults and juvenile members October 1st at Navan Adventure Centre 11am Start U10-12-14-16-18-20 Novice men 6k & ladies 4k Be part of the club teams in all ages text 086 7260777 to be entered October 8th at Navan Adventure Centre 11am start, U9-11-13-15-17-19 Intermediate men 8k & ladies 4k Nov 12th Meath senior cc cs & Round 1 of Meath juvenile league Bohermeen venue.
29th August 2023

Author: Stephen Ball
---
Meath 5k road Championship bronze medals for Bohermeen mens Team

Just released are the official individual and team results for the recent Meath 5k road championship , which was held in conjunction with Fr Murphys open 5k,the Bohermeen men's team of James Sherlock, John Carroll, Damien Hilliard and Harry Monaghan took team bronze medals, there were also individual medals won by Harry Monaghan 3rd Junior, Tom Durcan M75 3rd and in the ladies individual medals were won by Bridget Daly 2nd F45, Olivia Martin 2nd F50, Marion Morris 2nd F60 and Linda Gunning 3rd F60. Well do ne to everyone and all who took part from the club
28th August 2023

Author: Stephen Ball
---
Week Roundup

National Community Games Gold for Emma Hunt
Bohermeen athlete Emma Hunt had another outstanding performance last weekend, as she stormed to win the National community games girls under 16, 1500mts in Carlow, content to sit back almost until the final 200mts she held strong on the home straight to win with a few metres to spare, she was representing Meath and Kells area communty games and Ratoath girl Olivia Ryan was 4th.
National half marathon championship
Olivia Martin of Bohermeen won the clubs latest distance National medal, when on Saturday last in Tullamore she placed 3rd in the F50 category and win a well deserved National bronze medal, although outside her best half marathon time, to win a medal is always the target in any championship even
Bohermeen men win Tara team event
Bohermeen runners continued good team performances over the weekend at the Tara 5k where they were the overall men's team winners and were led home by TP Smith Carberry in 34th place, with James Sherlock 5th and David O'Connell 22nd and recently Bohermeen had 1, 2 & 3 at the Kells road 5k races, with James Sherlock leading home club mates John Carroll and Conall Courtney.
Lewis Reilly Childrens League
Bohermeen will once again promote their annual children's running league which has been held since the millennium year of 2000 and each year huge numbers attend from over 20 schools, last year the event remembered Lewis Reilly and we are delighted that this year once again Lewis who took part in the league over the years will be remembered, the league starts on monday sept 18th, with round 2 on Monday September 25th and the final and presentation on Saturday September 30th.
8th July 2023

Author: Stephen Ball
---
All Ireland Gold for Lauren Duffy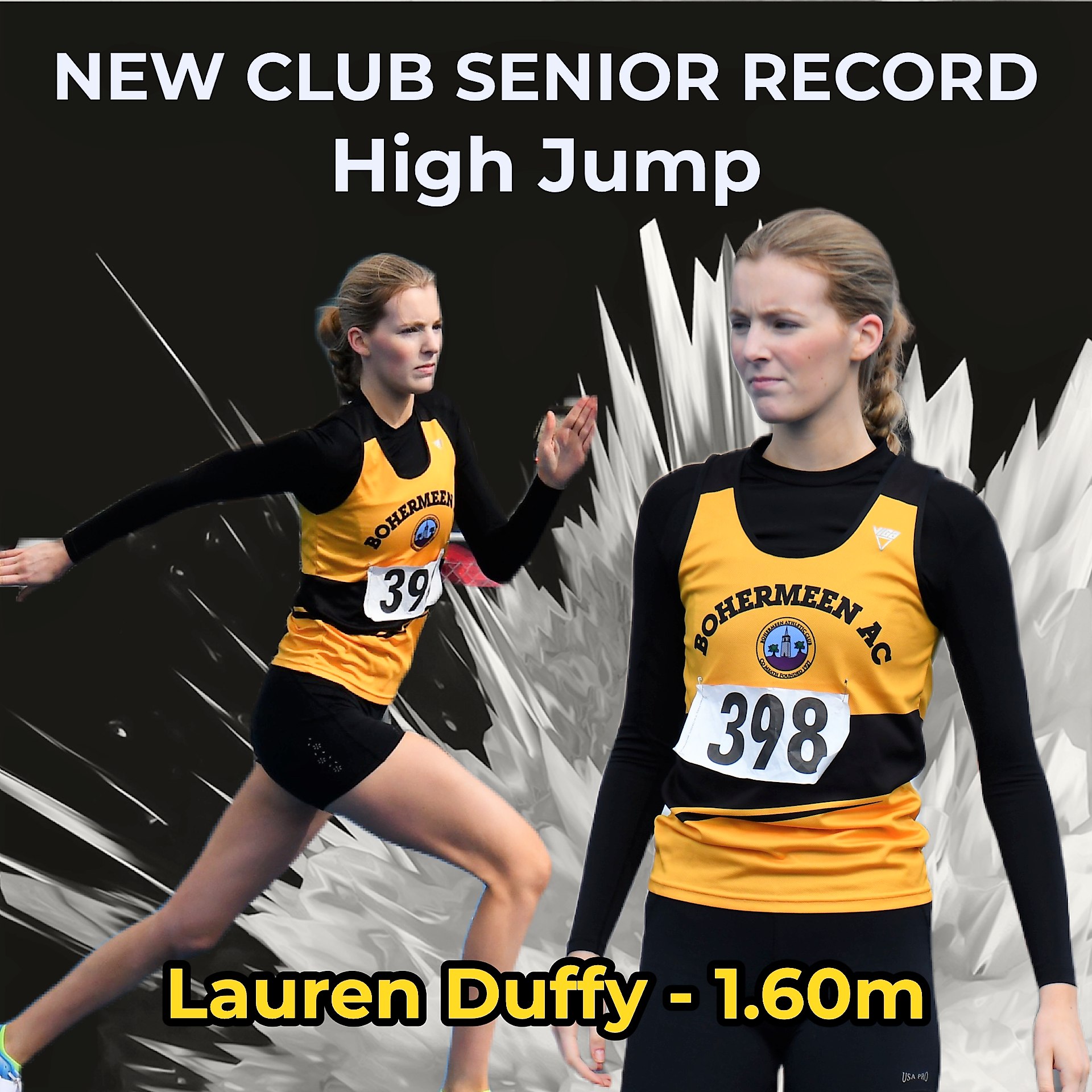 To steal the title of the 1998 Jack Nicholson movie, "It doesn't get much better than this" in athletic terms , when you win any National title after you are blessed with talent, ability and matching performance on the day, it really is an outstanding performance by Lauren Duffy who earlier today won the National under 18 High Jump title at Tullamore clearing 1-69. Which is a new personal best and Bohermeen club record by 9 cm, with her previous best set this year of 1-60 which replaced Karen Dunne's long standing club record. It has been a busy week for Lauren as last weekend she placed 6th overall in the National junior High Jump. The club wishes Danu McGann all the best as she competes in the National under 15 girls javelin in the afternoon.
1st July 2023

Author: Stephen Ball
---
National Bronze for Tara Hunt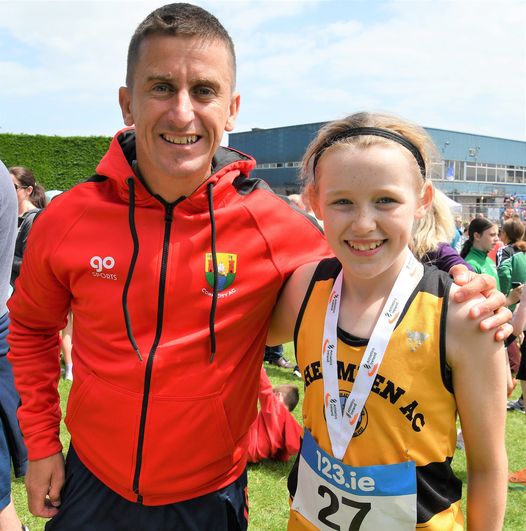 Another outstanding performance by Tara Hunt as she wins a National bronze medal in the girls under 13, 600mts at Tullamore today on the same day Bohermeen are announced as runners up in the recent Meath track league which concluded on June 21st after three rounds and several of our runners were in action last night at the fast St Cocas 5k Further reports later. Tara Hunt is pictured after her presentation with former European, Olympic and World race walking medalist Robert Heffernan from Cork , who was extremely courteous to all the young people at the presentation area today, a true champion of our sport in all aspects.
24th June 2023

Author: Stephen Ball
---
Meath Track League 2023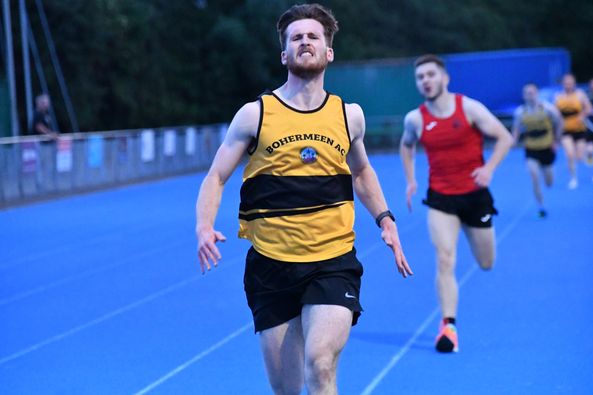 This years Meath track league concluded on Wednesday night last on the "longest day" of the year. Thanks to all our juvenile, junior and adult athletes who came out over the 3 rounds of the league, as said before it is a unique event where all ages from juvenile to master can represent the club on the same team. Irrespective of the overall results where clubs from all over Meath from the heavily populated to the rural areas all compete, full credit to all the clubs who have made this year's league, the first since 2019 due to covid such a success and to the officials who came each night to organise the events. We will publish more photos in due course and we wish Emma Hunt all the best as she represents Leinster in the Tailteann Games today in Carlow where she competes in the 1500mts.
20th June 2023

Author: Stephen Ball
---
37th Patrick Bell & Nicky Phillips memorial 5k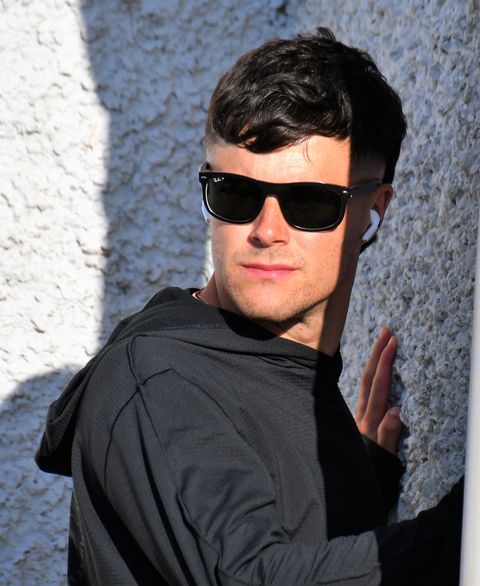 Pictured just before the start of this year's event which took place on June 2nd, is Bohermeen athlete Kevin McGrath on the left doing some last minute stretches before the start and looking as cool as Batman's sidekick of the 1960s Robin pictured. Kevin finished second on the night to the impressive winner Aaron O'Hanlon of Drogheda & District and in the ladies race Aine Cotter of the North East Runners in Dundalk was as equally impressive in winning the ladies race. We will publish loads more photos in the coming days of a lovely evening in Bohermeen, where thanks to your support the Special Hands group will benefit, thanks to our two main sponsors John Hogan of Hogan Kitchens of the men's race and Leahy's Mace at Newgate for the ladies race.
29th May 2023

Author: Stephen Ball
---
Special Hands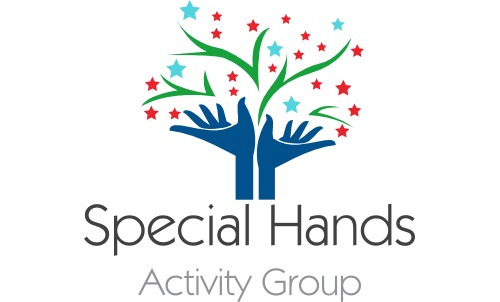 Support the work of this wonderful group called Special Hands, by running or walking as a family in this Friday nights 37th Patrick Bell & Nicky Phillips memorial 5k run and walk. The main sponsors are John Hogan of Hogan Kitchens of the men's race and Leahy's Mace at Newgate of the ladies race. WHO are Special Hands many ask and its like many unique groups all over Meath and Ireland they are there when you need them and here is a little piece about their work. Enter online for the run or walk at www.myrunresults.com
28th May 2023

Author: Stephen Ball
---
37th Patrick Bell & Nicky Phillips Memorial 5k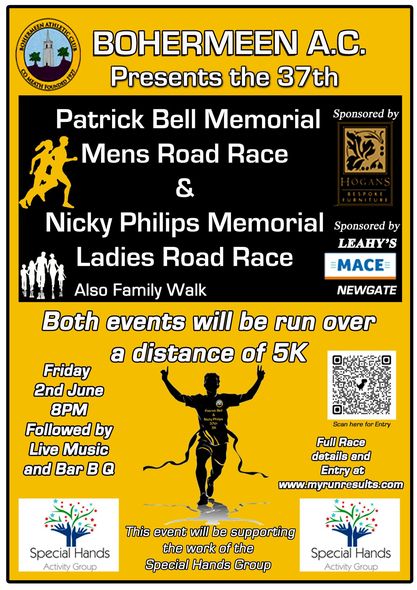 37th Patrick Bell & Nicky Phillips Memorial 5k run and walk June 2nd 2023 at 8pm in Bohermeen, supporting the work of "Special Hands" The event will be followed by the usual bar b que and live music Awards: 1st 6 men and ladies to finish 1st 3 junior men and ladies 1st men and ladies 0-40/45/50/55/60/65/70/75 1st 4 men's team of 4 to count any ages to comprise team 1st men's team of 6 Paddy Murtagh Cup 1st 4 ladies' teams 4 to count any ages comprise team 1st Ladies team of 4 wins the Mallon Cup any ages to make up team.
27th May 2023

Author: Stephen Ball
---
New Club Record for Bohermeen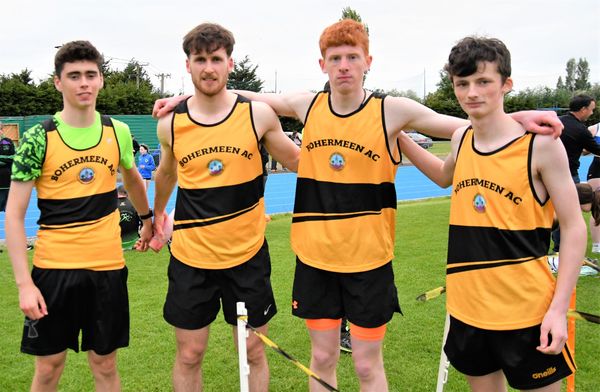 New Club Record for Bohermeen Congratulations to Cian Cassidy, Conal Courtney, TP Carberry Smith & Eoghan Rogers who broke the clubs 4 x 100 club record last night, when they placed 2nd in the Meath senior 4 x 100mts relay championship at Claremont Stadium Navan behind the impressive Ratoath squad. The previous Bohermeen record of 51-26 was set back in 1999 by Jason McMullan, David Coffey, Eugene Brady & Richard Fitzsimons. Another near record on the night was the club fielding 15 or 16 teams, teams that all passed the baton from not only hand to hand but generation to generation, as former athletes might say "as you did last night so once did I", many former athletes often remark about their time in athletics and the places they travelled to all over Ireland. Thanks to Annie who melted the club phone all week to get the teams on track and to Olivia, Patricia, Kevin, Ollie, Karen and all who helped encourage everyone to come out in a very busy time of year and also to Emma Kate our photographer on the night. Round 2 of the Meath track league continues on this wednesday May 31st at 7pm in Claremont and the 2nd round of the Meath relay championships take space at Claremont on Wednesday June 7th at 7pm
27th May 2023

Author: Stephen Ball
---
Davy Harrison @ Bohermeen Friday June 2nd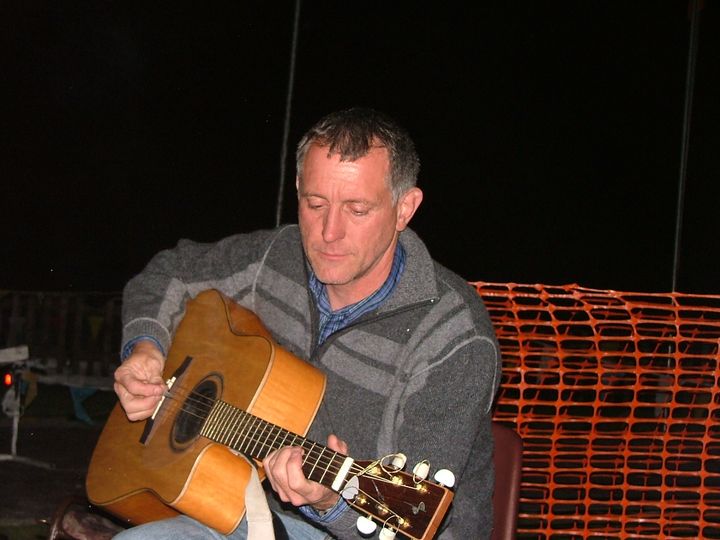 He once possessed a great kick over 1500mts now he does it with his vocals and guitar, next Friday June 2nd he will once again entertain those who participate in the 37th Patrick Bell & Nicky Phillips memorial 5k run and family walk Sincere thanks to our main sponsors John Hogan of Hogan Kitchens of the men's race and Leahys Mace at Newgate for the ladies race, The event is supporting the Special Hands group and entries are coming in fast at present , so enter now at www.myrunresults.com
16th May 2023

Author: Stephen Ball
---
Mary Hanley & Bob Heffernan 5k

Tonight's event remembers the late Mary Hanley taken much before her time, an outstanding athlete on road, track and cross country and also the late Bob Heffernan an outstanding athletic organiser, the course is one of the fastest in Ireland and the event is one of those great club events and promoted by Na Fianna AC. At the recent Simon Cumbers & Paddy Hyland 6k promoted by Navan AC, Bohermeen were led home by James Sherlock in 4th place overall and the men's team placed 3rd with back up from David O'Connell, Anthony Corrigan, Stephen Fay, and Olaf Dennison. Category placings included David O'Connell 3r0-55, Tom Durkan 3rd 0-70, Brigid Daly 3rd 0-45 and Linda Gunning 2nd 0-60..
16th May 2023

Author: Stephen Ball
---
Sean Conroy RIP

Bohermeen athletic club would like to extend his since condolences to the family of Sean Conroy from Dunboyne who passed away in recent days. Sean was always a most welcoming person at any Dunboyne AC promotion and his knowledge of athletics reached further and deeper than any digital library. With the utmost respect to all Dunboyne athletic club members and athletes past and present he was one of their most outstanding members simply by his modest and delightful personality. If there is beatification in the athletic world then Sean is streets ahead of many including myself. His loss to the athletic world is diminished in respect to that of his family who we think of at this time of their sad loss..
5th May 2023

Author: Stephen Ball
---
Bohermeen AC linking with "Special Hands"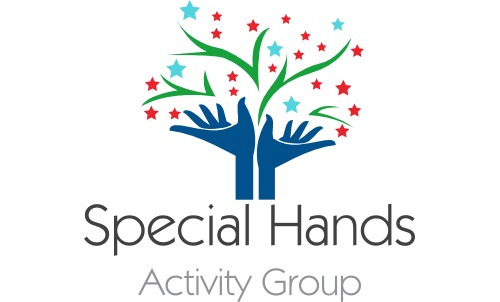 This year's 37th Patrick Bell & Nicky Phillips memorial 5k run and family walk which takes place on Friday June 2nd at 8pm in Bohermeen will be supporting the work of a local based group called Special Hands and in the coming days we will highlight the excellent work their do for many children and young adults. But for now, to support you can enter the run or walk by going to www.myrunresults .com and see the event listing for June 2nd.
2nd May 2023

Author: Stephen Ball
---
37th Patrick Bell & Nicky Phillips memorial 5k run and walk in Bohermeen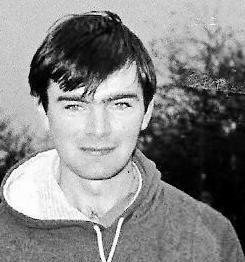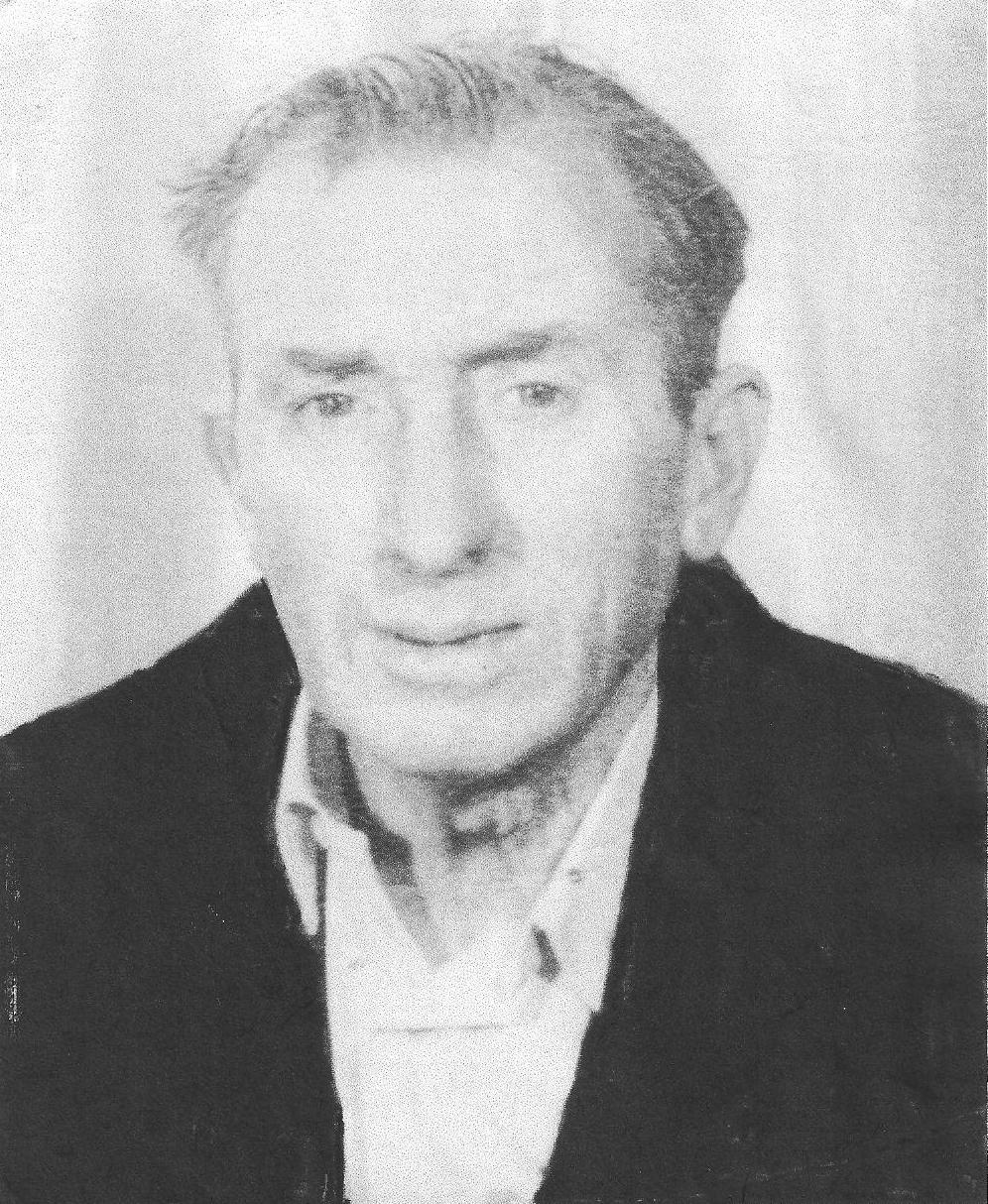 This year's big summer event will take place on Friday June 2nd at 8pm and takes place at the start of the bank holiday weekend, the event is unique in that everyone can take part from the beginner, walker to the would be Olympian and it will be followed by the famous country bar b que and live music. Pictured the late Patrick Bell who died following a road traffic accident in 1985 at the age of 26 and Nicky Phillips who passed away in the 1980s, he was an athlete of the 1930s and mentor to many club athletes of the 1970s.In our promotion we remember them and many more club members and parishioners who have passed on. Entry will open in the coming days, so do not panic plenty of time to enter online
2nd May 2023

Author: Stephen Ball
---
Marathon club record for Olivia Martin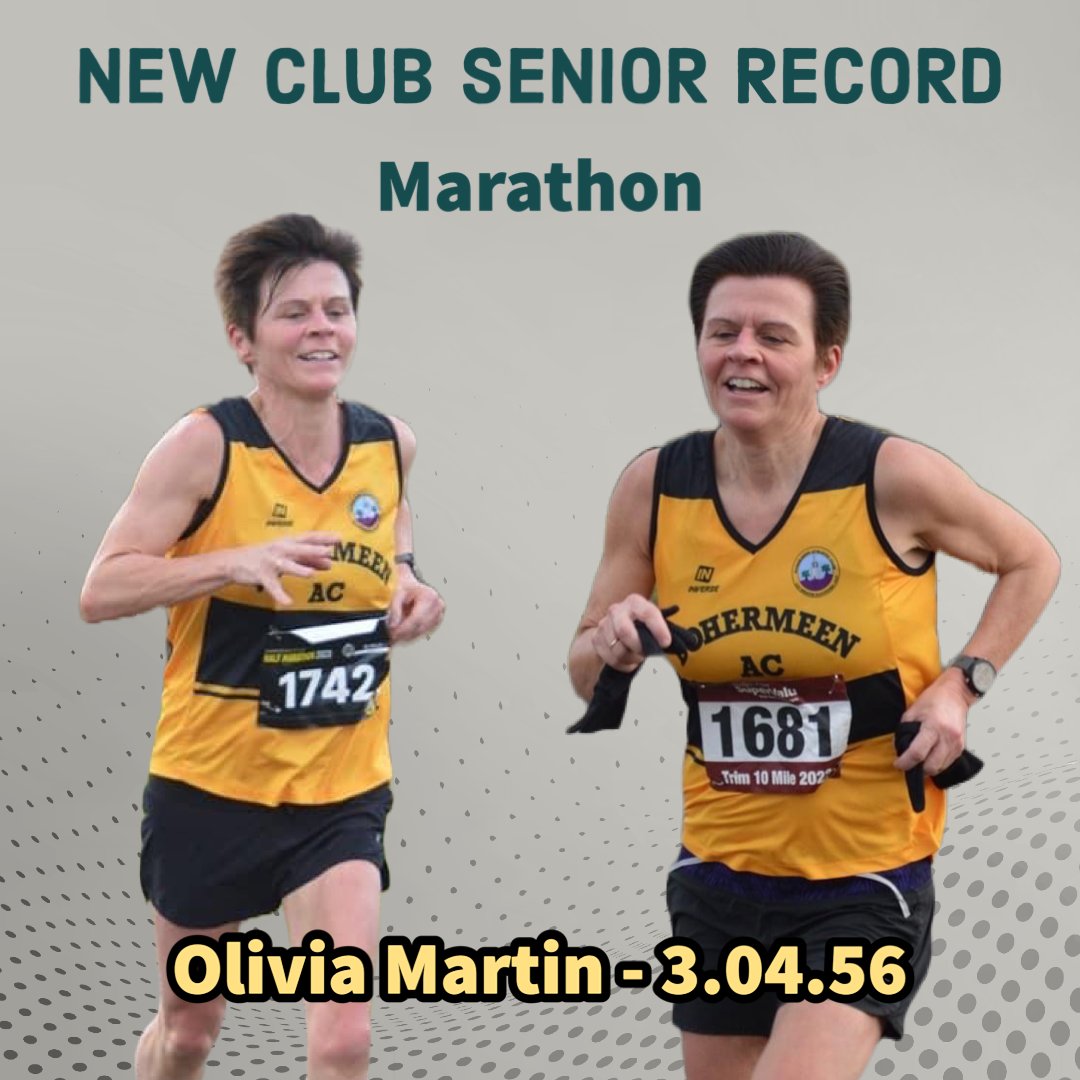 Another club record gone the weekend is the marathon ladies record as, Olivia Martin continued her great form, having set personal bests at the Trim 10 mile and a new half marathon PB of 1-26.16 in the Bohermeen half marathon in March and as they say she has gone and done it again, this time on Sunday in the Limerick full marathon of 26-2 miles, she held her pace steady throughout and came home to a new club and personal best of 3-04.56. A true gutsy performance and placed third lady overall, her previous best was 3hrs 16 from the Manchester marathon in 2019. Also, on the roads recently the club was represented in the Manchester marathon by both Damien Hilliard and John Carroll and in the Paris marathon by Olaf Dennison, with months of preparation going into marathon training sometimes it pays off and sometimes its back to the drawing boards and that is the test of any athlete of any level that they do face up to any new challenge or obstacle in their preparations. Over the weekend the club was represented at the Drogheda 10 by Stephen Fay and Olaf Dennison and in Kells earlier today by Rose Finnegan who made a great comeback to racing and won the 5k in 18-12, also in action in Kells were James Sherlock 4th overall in the 5k, in the 5k also were Anthony Corrigan and Brigid Daly, in the 10k from the club were Linda Gunning and Bridget Mullen.
1st May 2023

Author: Stephen Ball
---
Lauren Duffy sets new club record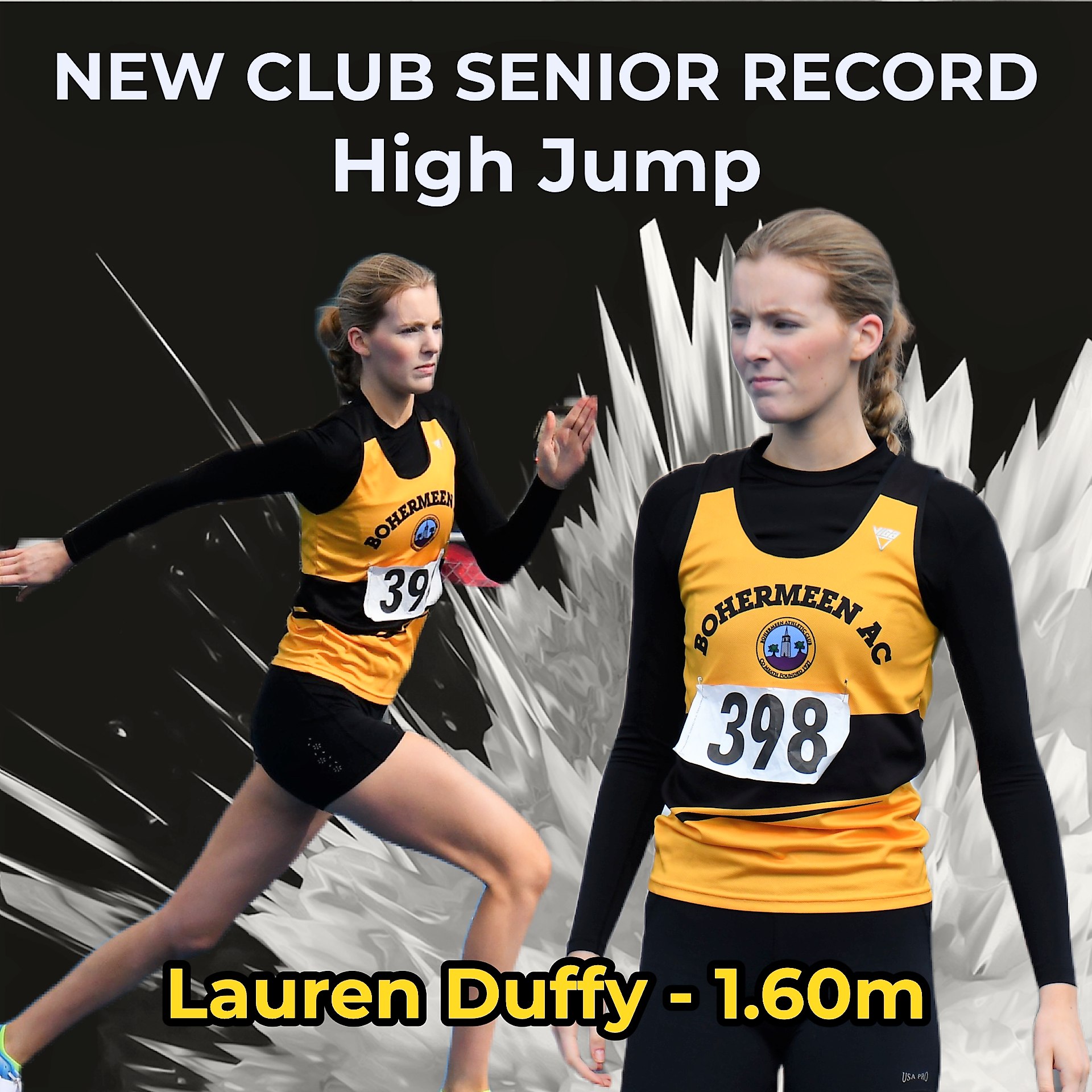 On the last day of April and the second day of the Meath senior, master, junior & under 18 athletics championships at Claremont Stadium, Lauren Duffy set a new club record for the High Jump when she cleared 1-60 and just missed the 1-63 by the thickness of a page of a newspaper. She officially replaced Karen Dunne's record of 1-55 set way back in 2012 and following her North Leinster schools high jump victory last Wednesday where she cleared 1-55 the season ahead is looking good.
17th April 2023

Author: Stephen Ball
---
37th Patrick Bell & Nicky Phillips 5k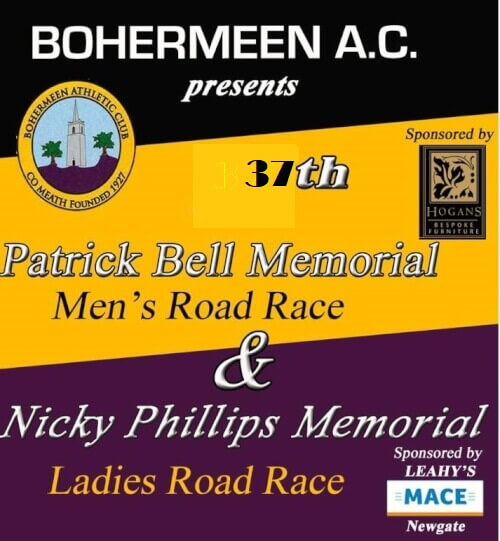 37th Patrick Bell & Nicky Phillips 5k on Friday June 2nd in Bohermeen, entry opens Friday April 21st.
16th April 2023

Author: Stephen Ball
---
Meath Track & Field League May 26th
Its back for the first time since 2019 for obvious reasons and its an opportunity for all club members to take part from under 9 to master, in the case of junior, senior, and master its 800mts in round 1.
11th April 2023

Author: Stephen Ball
---
Linda Wins in Sligo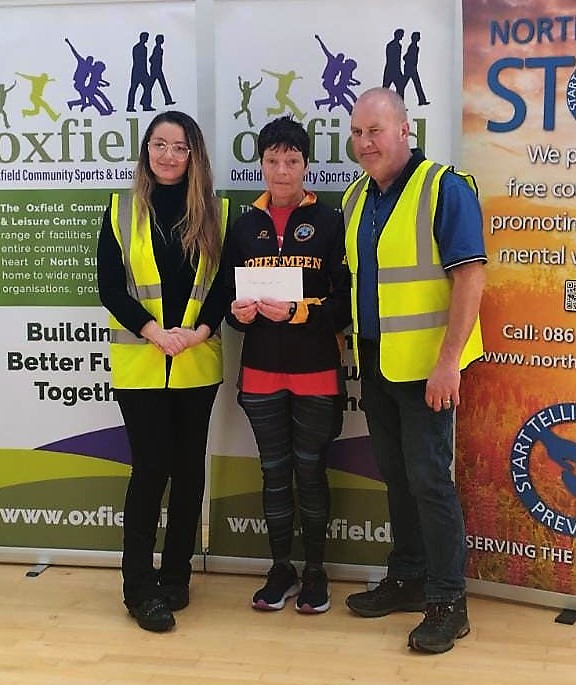 Congratulations to Linda Gunning who won her grade F60 in the Carney 10k earlier today on Easter Monday. Carney is situated in west Sligo between Lissadell House area and Drumcliffe burial place of the late William Butler Yeats. An area of wild beauty and no doubt Linda who has run a race in nearly every count of Ireland did not have time to view the scenery today, but well done to her and to all club athletes in action at various races today.
16th March 2023

Author: Stephen Ball
---
Moynalty 4 mile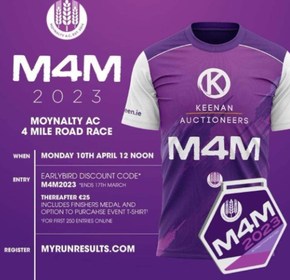 Its Moynalty on Easter Monday, the favourite runners place in Meath , their excellent 4 mile is on and there are no jumps like Fairyhouse just on the flat. Like all the Meath club races they put their own special stamp on the event and always a hearty welcome followed by refreshments . Runners will go to post at 12 noon.
15th March 2023

Author: Stephen Ball
---
Dunboyne 10k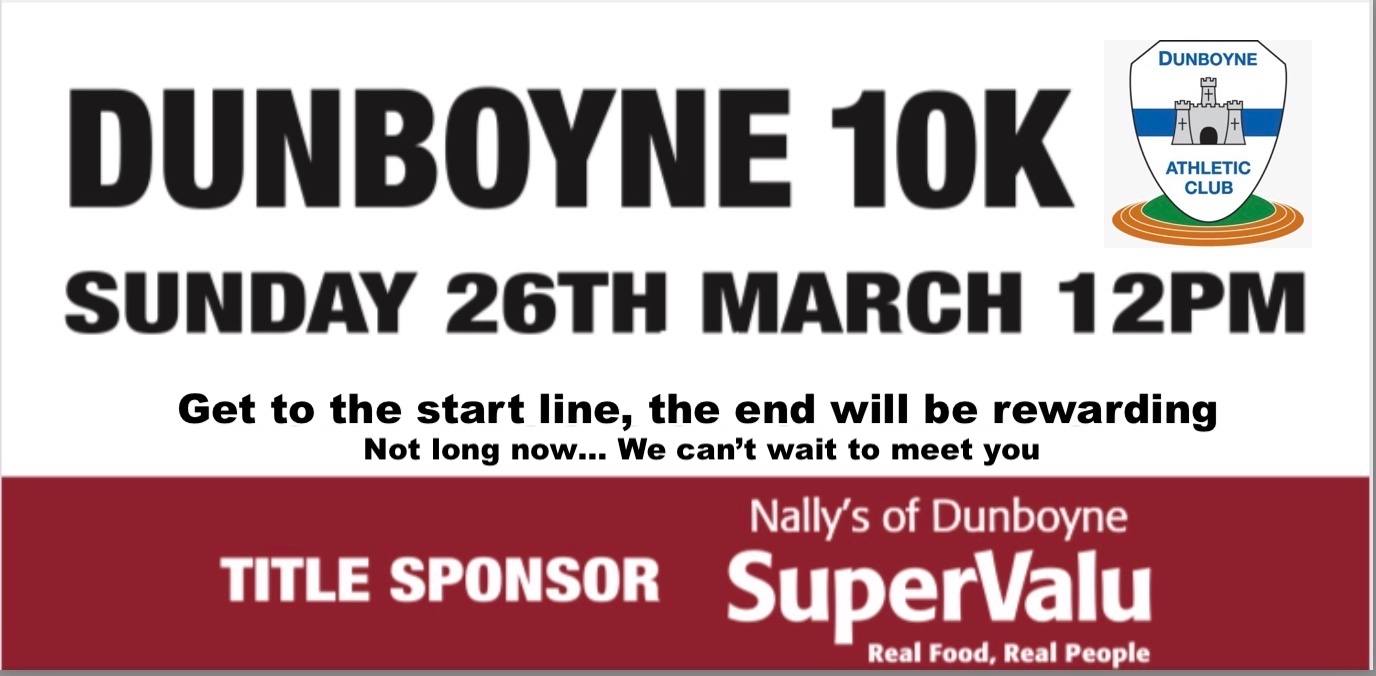 Requesting all Bohermeen athletes to support the next Meath road race on March 26th at 12noon when Dunboyne AC promotes their annual 10k and it also incorporates the Meath 10k cs , there are also juvenile races on the track in the morning .So the promotion caters for all ages.
10th November 2022

Author: Stephen Ball
---
Vincent Mooney RIP

Bohermeen athletic would like to extend its condolences to Patricia Rennicks on the recent passing of her uncle Vincent Mooney and to all his family and friends at this sad time.
2nd November 2022
Author: Stephen Ball



---

Brian Monahan RIP
Bohermeen AC would like to extend its sincere condolences to the family and friends of the late Brian, to his wife Ciara and his son and daughter Alan and Niamh both who were former club members. May he Rest in Peace.
7th September 2022
Author: Stephen Ball



---

Sinead Ball RIP
Bohermeen athletic club would to extend its sincere condolences on the passing of Sinead, to her sister and club member Catriona O'Brien, her parents Mickey & Theresa and all her siblings David, Aine, Aoife, Dermot and all the extended Ball family and to her many friends at this sad time. As a child Sinead like many of her siblings were active club members. As a mark of respect to Sinead and her family all Bohermeen AC adult and juvenile group training sessions are cancelled until after her funeral on Saturday. Sinead is pictured in this group photo at the Meath NACA championships at Dunboyne in 1985,she is circled in blue. May she Rest in Peace. Her funeral arrangements are as follows. Reposing at her parents' residence on Thursday from 5pm-8pm and Friday from 3pm-8pm. Removal on Saturday morning at 11:30am to arrive at St Ultan's Church Bohermeen for Funeral Mass at 12 midday which can viewed on https://www.churchservices.tv/bohermeen. Burial afterwards in adjoining cemetery. House private on Saturday please
31st August 2022
Author: Stephen Ball



---

Children's fun running league 2022
Dates confirmed for this years league are ,Round 1 Monday Sept 25th @ 6-30pm, Round 2 Monday October 3rd, grand final and presentation Saturday Oct 8th at 3-30pm. Further information coming soon.
24th August 2022
Author: Stephen Ball



---

Gold for Tom Durcan
Club member Tom Durcan recently won two gold medals at the National master's athletics championships, which took place in Tullamore. The championships took place on a very hot day which was quiet testing for all athletes especially those taking part in the middle and long distance events. Tom took gold in the M75 800 & 5000mts events and posted 3-13.61 & 22-53.06 respectively. Back in May Tom also won the M75 National 5k road title posting 22-52 on that occasion. You have to go all the way back to 1964 for one of Toms first sporting successes, when he was a member of his local Gaelic football, team Martry when they won the Meath junior football title.
18th August 2022
Author: Stephen Ball



---

Thank You
Each year the Bohermeen half marathon is held in early March and if you were one of those who took part since its revival in 2012, you would have passed Boyerstown NS twice on route to the finish line. Often the weather has been kind and cruel with snow, sleet and rainfall and sometimes all at the same time. As you passed Boyerstown school once or twice a young hand of a school child or their parent would have handed you a bottle of water and this photo from the 2020 event, reminds us of a very important fact in all walks of life "that we all need a little help sometimes" as Bohermeen AC recognizes this fact each year and these young people epitomize community spirit instilled by their family and teachers. On the Newline water station many more children are always there doing their bit in all weather at the half.
18th August 2022
Author: Stephen Ball



---

Congratulations Darragh
Congratulations to our past 7 times Meath Senior cross country champion Darragh Rennicks & Patricia who celebrated their marriage in recent times. Proving that the greatest prize in the race of life is happiness. Bohermeen AC wishes them all the best in their future married life together.
5th August 2022
Author: Stephen Ball



---

Barney Thornton snr RIP
Bohermeen Athletic Club would like to express its sincere sympathy to all the Thornton family on the very sad passing of Barney Thornton of Tullaghanstown and formerly of Greetiagh Bohermeen whose death has occurred in recent days. May he Rest in Peace. Funeral details. Formerly Greetiagh, Bohermeen. Predeceased by his parents Charlie and Mary. Suddenly but peacefully surrounded by his loving family and loving staff of Connolly Hospital Blanchardstown. Barney will be very sadly missed by his loving wife Margaret, son Barney Jnr, daughters Tina (Ball), Lorraine (Fay) & Jacqui, grandchildren, brothers Oliver (Bohermeen) Kevin, David (Drogheda) & Kieran (Navan), sisters Nuala (Kilskyre), Collette (Kells) & Therese (Bohermeen), daughters in law, sons in law, brothers in law, sisters in law, nieces, nephews, relatives, friends and great neighbours. May Barney Rest in Peace Reposing at St. Joseph's Chapel of Rest Old Johnstown (C15 C425) on Thursday from 6 pm-8 pm. Arriving to The Church of the Assumption Dunderry on Saturday morning for Funeral Mass at 11:30 am. Burial afterwards in Dunderry Cemetery. House Private at all times, please.
24th July 2022
Author: Stephen Ball



---

Duleek 10k
Damien Hilliard in top form at Duleek 10k. Damien was in action at the Duleek AC 10k earlier today and placed 9th overall behind the winner Peter Somba of Dunboyne AC, Damien posted 38-16 and placed 9th overall and 4th in the M40 grade and 4th Meath club athlete to finish. Linda Gunning placed 3rd in the F60 grade posting 580-38. The next Meath club race is the Streets of Athboy 5k on August 5th at 8pm promoted by Fr Murphys AC. (Photo from club file)
24th July 2022
Author: Stephen Ball



---

Cilles AC 5 mile
James Sherlock was in fine form at the Bettystown 5mile road race held during the week by Cilles AC. Continuing his recent good form this summer he posted a finishing time of 28-47 and placed 10th overall from a field of almost 400 runners, he was 5th Meath club athlete to finish behind the winner Peter Somba of Dunboyne. With a few more great Meath races on the summer calendar a few more good runs could be on the cards , also at Cilles 5 mile Linda Gunning was in action and placed 3rd in the F 60 grade. Pictured James Sherlock leading Ryan Moloney of the Cilles AC
15th July 2022
Author: Stephen Ball



---

National Juvenile Championships
At the National juvenile championships in Tullamore, which were held in sweltering heat, Bohermeen's Emma Hunt had a terrific run in the girls under 15,1500mts to place 6th and post a new personal best of 5-00.12. Also in final action were Beth Miskelly who placed 7th in the girls under 18 Shot Putt throwing 9-63mts, Cillian Yore placed 7th in the boys under 16 long jump clearing 5-52mts and just missed out on a place in the 100mts final by one place. At the Oldcastle 5k promoted midweek by St Brigid's athletic club the club was well represented and, on the night, Trudie Gillic had a great win in the junior section of the 5k posting 21-38. This marks a great step forward as she has only taken up competitive athletics very recently. The club was also represented at several other races including the National 10 mile in the Phoenix Park.(Photos from file)..
15th July 2022
Author: Stephen Ball



---

Belgium & Ireland Racing
Kevin McGrath of Bohermeen athletic club was in action in Belgium over the weekend at Kortrijk in West Flanders, running over 800mts in one of the few international races left on the calendar this year apart from the European and World championships. The race in Belgium was hotly contested with athletes from Ireland, Germany, Holland, France and Canada on the starting line. On the night Mark Milner of UCD took the win in 1-47.50 and Marius De Bruyn of Belgium was 2nd in 1-48.62 and Kevin McGrath claimed 3rd spot clocking 1-48.84 but not before he had to hurdle a fallen athlete who had come down during the course of the race. The race proved that both McGrath and Milner have seen their times progress and their good form since the indoor season.
15th July 2022
Author: Stephen Ball



---

Nikki Magee (nee Woods). RIP
Bohermeen AC extends its sincere condolences to our member and friend Gary Woods on the very sad passing of his sister Nikki and to all her family at this sad time May she Rest in Peace..
15th July 2022
Author: Stephen Ball



---

Noel Lynskey RIP
Bohermeen AC would like to extend its sincere condolences to the family of the late Noel who has passed away in recent days. In the 1970s he was a member of the club committee for a number of years and also served as club Chairman in 1975. As an active member of the committee, he was also one of the clubs' juvenile trainers. May he Rest in Peace.
11th July 2022
Author: Stephen Ball



---

Jim Rennicks RIP
Bohermeen athletic club would like to extend its sincere sympathy to the family of the late Jim who passed away in recent days at an advanced age. His late father Attie presented the Rennicks Cup to the club in 1972 and this year marked the 50th anniversary of the event, which is now incorporated into the half marathon each March.
9th July 2022
Author: Stephen Ball



---

Breaking news from Belgium
Kevin McGrath had a fine run over 800mts earlier tonight in the Flemish town of Kortrijk in Belgium, the race on Saturday evening in West Flanders saw athletes from many countries racing after competing in their respective National championships two weeks ago, in Flanders Kevin posted 1-48.84, the race which was run at a very hot pace and wasn't without drama, with one athlete hitting the deck
16th June 2022
Author: Stephen Ball



---

Dunleer AC 4 Mile Road Race
Our good friends Dunleer Ac are hosting their annual 4 mile road race on July 10th,a great event and always a great welcome to the mid Louth venue for everyone.
1st June 2022
Author: Stephen Ball



---

Shane McGeough RIP
Bohermeen Athletic Club on behalf of all its members would like to express its most sincere sympathy on Shane's sad passing, to our friend and esteemed member and Vice President Kevin and his wife Cathriona, Shane's parents, to Shane's wife Michelle and their daughter Harlow and to his many relatives and large circle of friends both in Ireland and Australia. May God bless them with strength in the coming days and times ahead, to cope with the loss of their beloved Shane.
1st June 2022
Author: Stephen Ball



---

Eircode for Patrick Bell 5k
Eircode for friday nights Patrick Bell 5k ,starts 8pm
29th May 2022
Author: Stephen Ball



---

New Bohermeen High Jump record for Cillian Yore
It was a night of "High" drama at Dunboyne athletic track on a busy day in sport, at Croke Park and two French venues. With both the Leinster senior football final of the men's and ladies' codes taking place and at two different French venues the European Rugby and Champions league finals were taking place. But at Dunboyne track on a lovely summer evening the final round of the Meath individual championships were taking place, like previous rounds Bohermeen were well represented (full report & photos on all rounds will be posted during the week). The final event of the night, the boys under 16 high jump was contested by no fewer than 9 athletes, as news of the Champions league start being delayed it was received with delight for those watching the intriguing boys under 16 High Jump, as the bar was raised to 1-60 there were still five athletes in contention. Cian Gibbons of Cilles AC and Bohermeen pair of Cillian Yore and TP Carberry Smith. The final run in saw TP take the bronze with a new personal best of 1-65 and Cian of Cilles AC take the silver clearing 1-68, but Cillian Yore pushed on to take several more jumps and cleared 1-75 a new personal best and a new overall Bohermeen club record, a record which had stood since 1994 to Ronan Butler who had the mark of 1-73. On the night of memorable High Jump performances Bohermeen's Emma Smith won the girls under 16 High Jump also setting a new personal best of 1-40. Pictured Bohermeen's High Jump medalists on the night, who set new personal marks of 1-65, 1-40 & 1-75 respectively. Thanks to all the officials on the night and helpers.
28th May 2022
Author: Stephen Ball



---

Patrick Bell 5k 2022
Save the rush on the night enter now through https://www.myrunresults.com
5th May 2022
Author: Stephen Ball



---

A busy summer on Meath roads
This year as we return to normality at our road races, normality will never be the same for many families and clubs. As in the past two years and recent years, we have lost some club members who were friends, friends that we may have only met at races and athletic events. Such is the wheel of life where one never knows when its your turn to stop pedaling. So, with the shackles of confinement now released, it would be great to see everyone from all the clubs and various communities coming out to take part or like myself to sample the tea and refreshments in the various corners of the county. Whether you're training for the next Olympics or whatever, you can always adjust your schedule. Social interaction at the various athletic events is as good as Gold, Silver & Bronze to many
1st April 2022
Author: Stephen Ball



---

Bohermeen Summer Adult Run
Its beginning to look a lot like a busy summer , note new time 7-30pm.
31st March 2022

Author: Stephen Ball
---
Bohermeen Adult Training

TRACK UPDATE Adult night at Bohermeen track moves to 7-30pm for the summer starting Monday April 5th at 7-30pm, looking at getting you to the Patrick Bell & Nicky Phillips memorial 5k on Friday June 3rd at 8pm.
23rd March 2022

Author: Stephen Ball
---
Bohermeen Half Marathon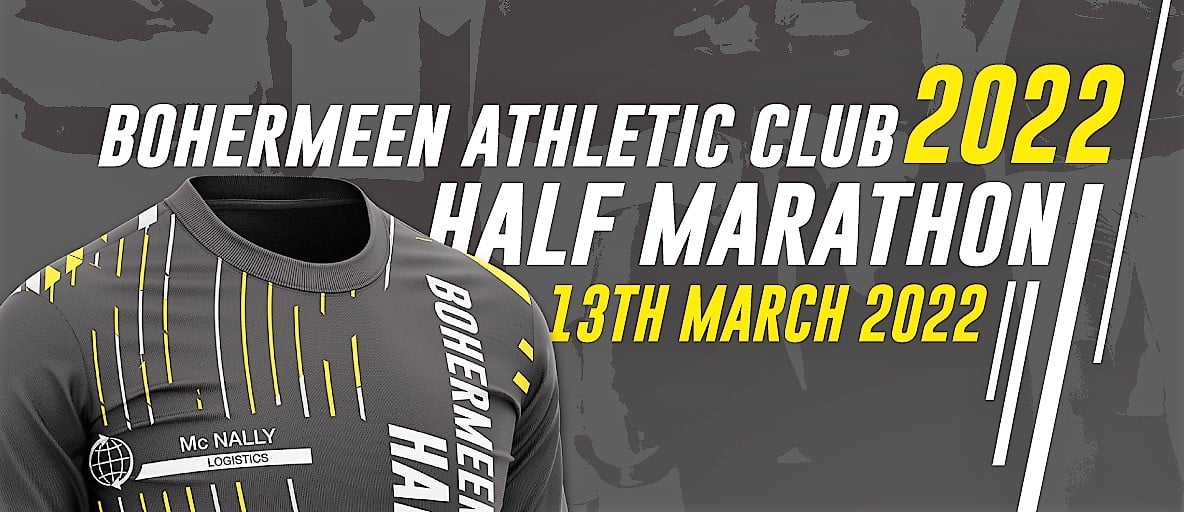 Bohermeen half marathon 2022, inc 48th Rennicks Cup & 45th Fr Delany Cup. With most limbs enjoying their recovery from this year's event, an event made successful on many fronts, by you the participants, the helpers, our race management team and all our sponsors from our main sponsors McNally Logistics and all our supporting sponsors. This event is made possible through all these combinations from our community and volunteers. We wish you well I the year ahead and hope you will be back in 2023 when the 50th anniversary of the first ever half marathon took place in Bohermeen in 1973, the date for the 2023 event is scheduled for March 12th. All category winners and team awards will be posted early next week as we allowed time for any adjustments as you will understand, the team awards will be posted to the first scoring member of each team. Again, if there are still any adjustments, please email myrunresults.com
17th March 2022

Author: Stephen Ball
---
Ronan Wogan at Mullingar Half Marathon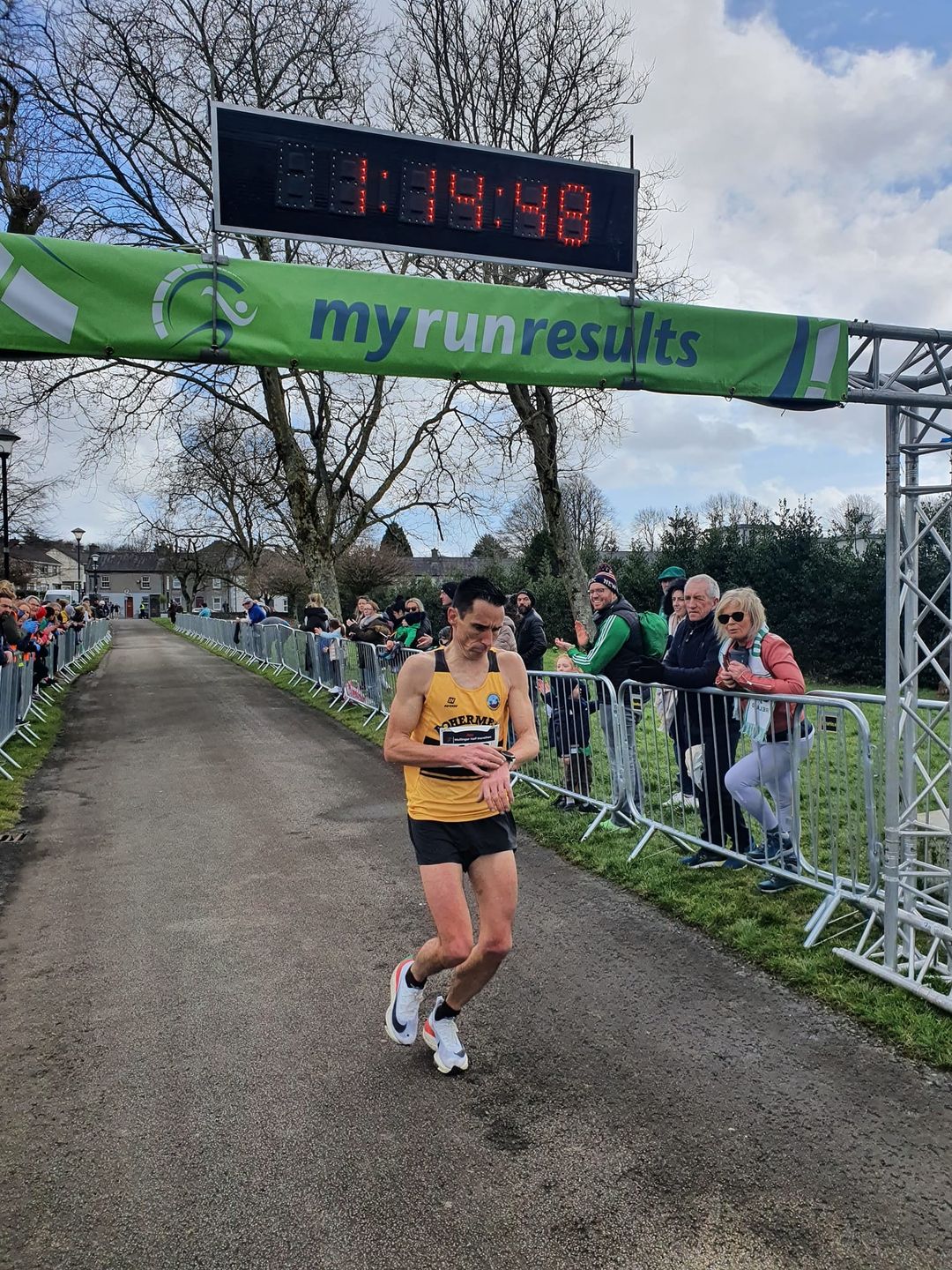 Ronan 7th in Mullingar Half marathon today, checking his watch not even trusting his overhead clock. Well done to all who ran today in Mullingar.
16th March 2022

Author: Stephen Ball
---
All Ireland school's cross country championships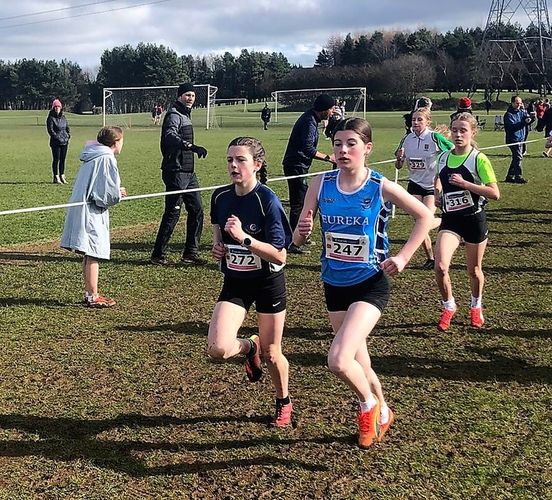 Mallusk was the venue for the All Ireland school's cross country championships today, where young athletes from all over Ireland were there and it was no place for those with a weak spirit physically or otherwise as some of the best juvenile athletic talent in the country were in action. In what is surely the finale of the cross country season. Cara Brennan ended the cross country season as it had begun last October by producing top class performances and today at Mallusk she placed 14th in the junior girls race, where only 27secs separated the top 14 runners across the line such was the intensity of the race. Cara was representing her school Eureka of Kells at Mallusk. At the Leinster juvenile indoor championships in Athlone Beth Miskelly placed 3rd in the girls under 18 shot putt with a best throw of 9-91 mts and now progresses to the National juvenile indoor championships
8th March 2022

Author: Stephen Ball
---
Bohermeen Half Marathon

Bohermeen community centre is HQ for next Sundays half marathon , the main hall will be an unmanned bag drop off area. With the price of fuel soaring , please consider car pooling on Sunday and it will also help local parking for the race . Participants will receive email from out timing partners myrunresults.com with further information.
19th February 2022

Author: Stephen Ball
---
Tom Durcan National record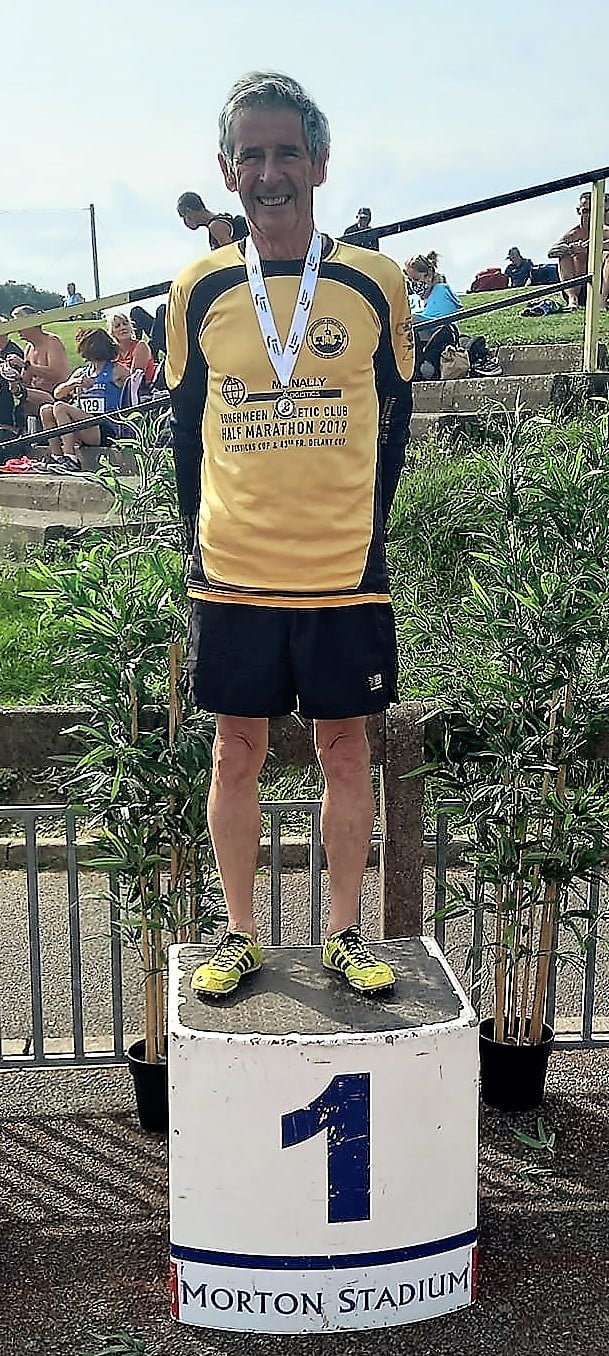 Congratulations to club man Tom Durcan, whose performance in the Mullingar half marathon last September has been finally recognised as a new National O-75 record. In acknowledging his performance of 1-42.37 for the 13-1 miles distance, it represents a personal milestone to set a National record in one's age group. Regardless of the athletic discipline the challenge remains the same and as anyone's knows 13-1 miles is a challenge for any age, that requires a lot of training. On behalf of all club members congratulations.
14th February 2022

Author: Stephen Ball
---
Bohermeen do well in Cork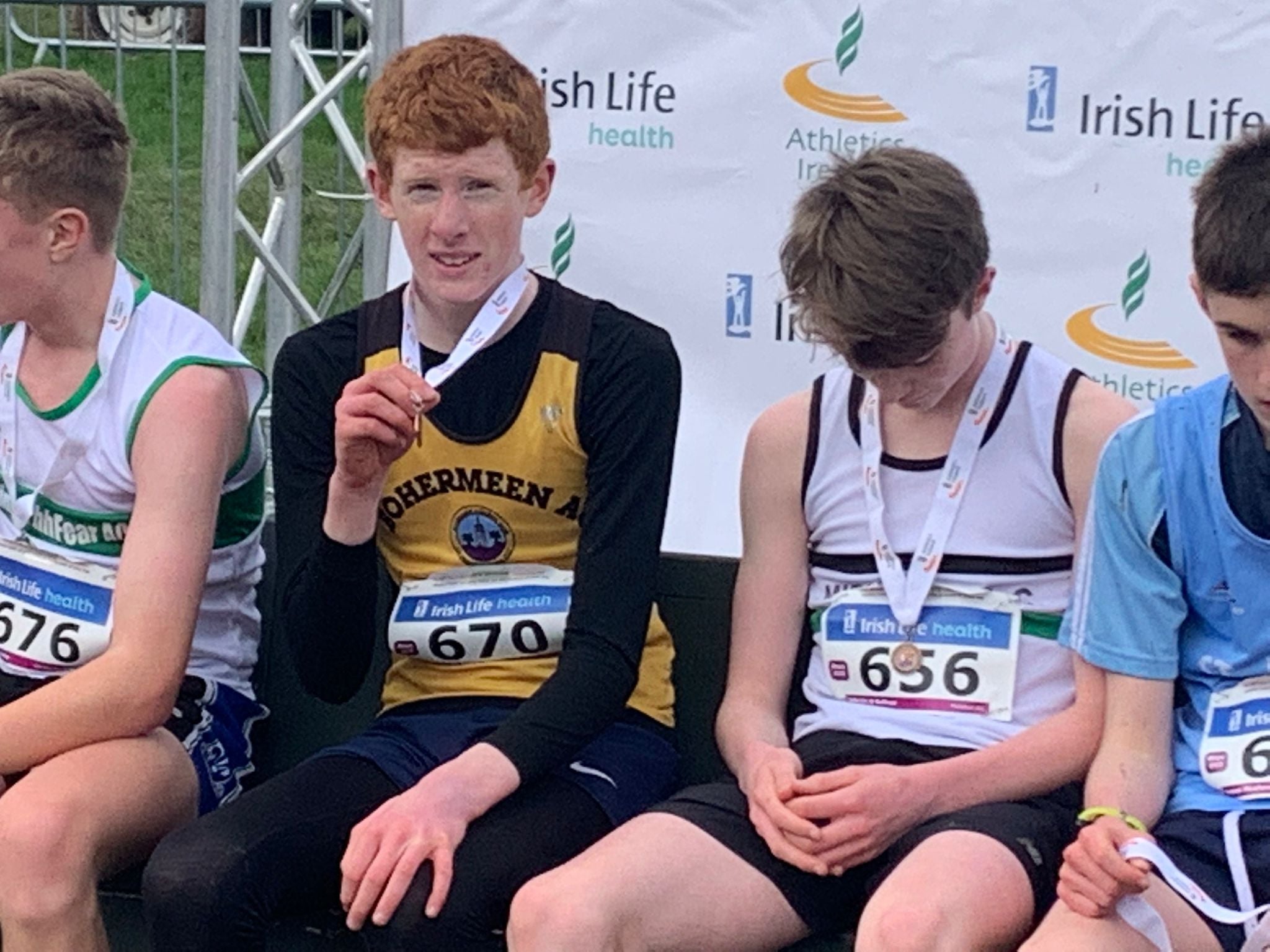 A small team travelled to Castlelyons Co Cork for the All-Ireland B cross country championships and well done to them. Some might ask what the B means, I would have to say in reply "brilliant", as anyone that steps out into any competition representing the club whether it's the 50k the day earlier in Donadea, or the fast track at the NIA or a trip to Cork well done to all in all the respective competition over the weekend. Castletlyons TP took third place overall in the boys under 15 2k event, with a fast and furious finish that took him past a few of the runners in the past 20 mts to take a well earned bronze medal and also in action were Conn in the boys under 13 race and his sister Eva in the girls under 17 race and great credit to them and parents for making the journey.
10th February 2022

Author: Stephen Ball
---
Trim 10 Mile
Congratulations to all our runners who took part in the Trim 10 mile road race, which also incorporated the Meath 10 mile road championship. Our mens and ladies' squads were led home by James Sherlock and Catriona O'Brien respectively. But full credit to all our runners on the day the wind was testing to say the least where it would have launched many a sailing ship with its strength. Some times extracted from results for our registered members in the cs. Apologies if I missed a few in the photos some hadn't club singlets so didn't spot everyone, on the day our ladies squad placed 3rd team overall and Olivia Martin was 2nd in her new grade O-50. In the Meath championships which was open to members and teams of Meath affiliated club, our ladies club squad placed 2nd overall from 11 competing and also the following were placed in their respective categories 0-40 1st Catriona O, Brien,2nd Aileen Briody, 0-45 3rd Andrea McGuinness, 0-50 2nd Olivia Martin,0-60 2nd Linda Gunning. Our men's squad placed 4th team in the championships from 11 competing Meath clubs, in congratulating all our runners well done to Trim AC on another great event and the next Meath club race is the Duleek 5k on February 27th at 1pm.

James Sherlock 61-36 Kevin Reilly 61-42 John Carroll 62-37 Damien Hilliard 63-13 Tony Walsh 67-10 Mark Duffy 68-33 Gerry Nealon 70-02 Stephen Fay 72-45 Olaf Denison 93-49 Shane McCabe 94-18 Ladies Catriona O'Brien 67-01 Olivia Martin 71-40 Andrea McGuinness 74-27 Aileen Briody 74-51 Joanne Traynor 87-50 Bridget Reilly 89-04 Martina Miskelly 89-47 Bridget Mullen 92-46 Vicky McCabe 94-18 Linda Gunning 94-40 Caroline Walsh 98-17
28th January 2022

Author: Stephen Ball
---
Kearney and Mc.Bride Cup cc bus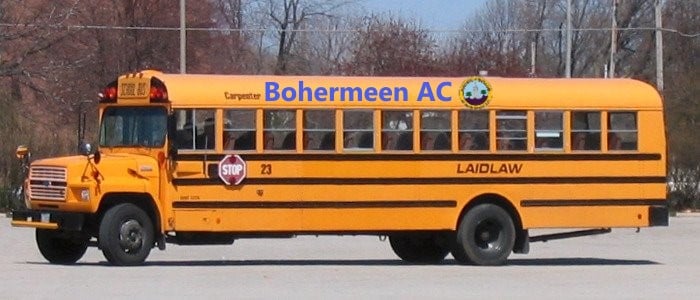 The bus to the Kearney & McBride cup cc this Sunday leaves track at 9-30am for juvenile races, text club phone for a seat 086-7260777.
28th January 2022

Author: Stephen Ball
---
Metro St. Brigids St. Patrick's Festival of Races 2022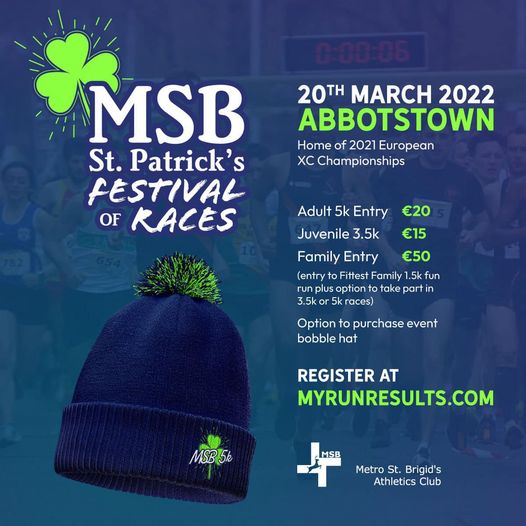 Run on the same course as the European CC CS.
23rd January 2022

Author: Stephen Ball
---
Kevin Mc Grath at Athlone Indoors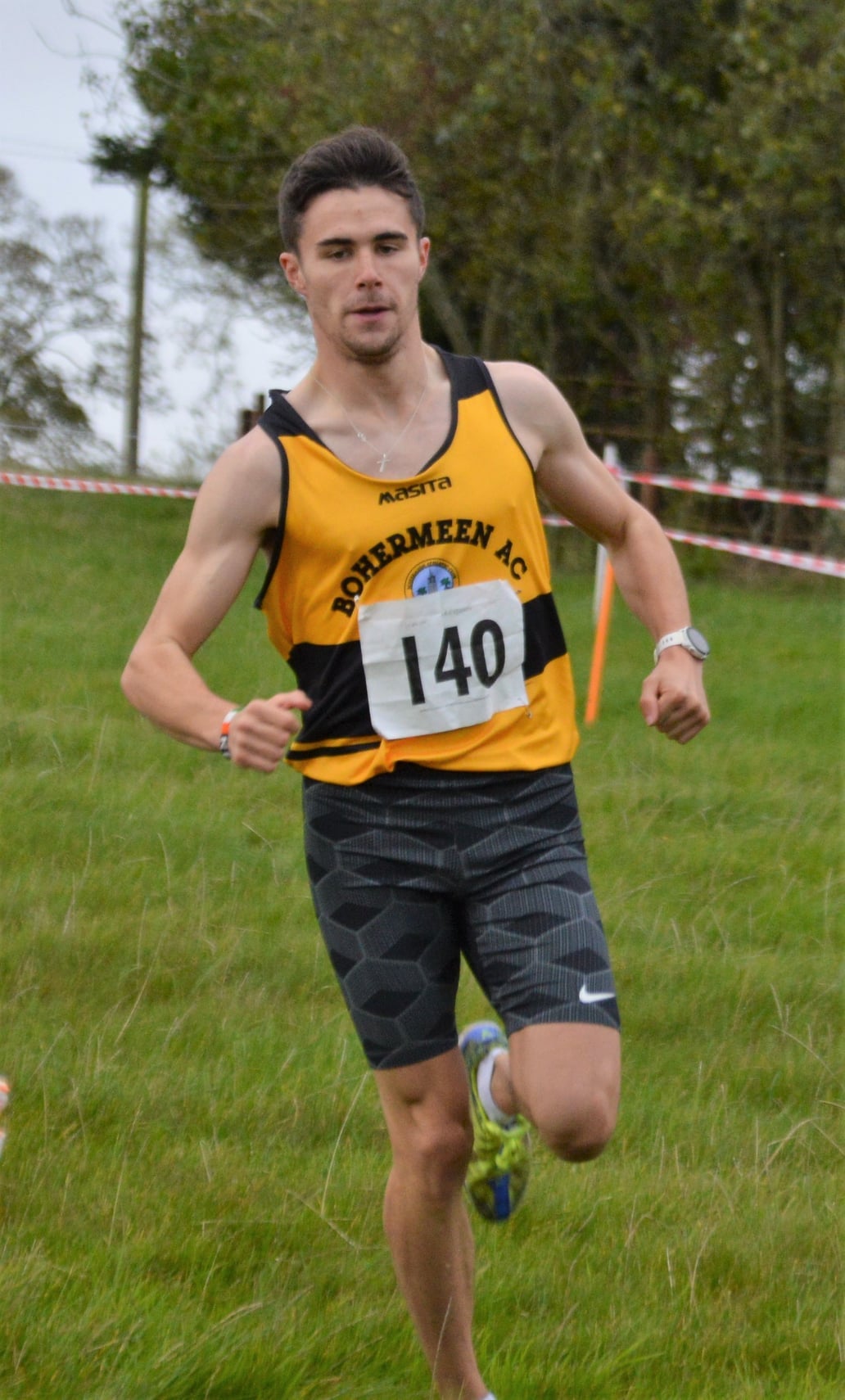 Kevin McGrath goes faster on the "boards" Running his second 800mts race in just four days, Kevin McGrath showed today in Athlone that he is in top racing shape, with another top drawer performance. On a day when many Bohermeen young club athletes were cutting their racing apprenticeship teeth at the Blackrock open cross country races in Co Louth. The 23 year old Kevin who seems to have been around athletics for much longer than his age suggests was at the indoor arena at Athlone at the coal face of athletics as it were, but apart from his numerous underage and adult success on track, he also has won the national Under 13 cc title in 2011 at the Curragh. On Sunday he once again had Mark Milner of UCD for company over the 800mts distance and they were joined by Roland Surlis of Annalee in Cavan, with all due respects intended they were the "big 3" to contend with and as the results show after the pacemaker did his job, the placings across the line were 1st Roland Surlis 1-49.04, 2nd Kevin McGrath 1-49.29 and 3rd Mark Milner 1-49.77. Kevin in second place once again broke new ground with both a 2nd new personal best of 800mts indoors in a week and another new club indoor record for the distance. Kevin now moves to 2nd on the National ranking indoors for the current season over 800ts and 20th on the all time indoor Irish list and top Meath indoor 800mts in the all time list. The weeks ahead should see today's top three tangle again and all will have visions of at least a National senior medal when the championships take place in late February and with current restrictions lifted the arenas will have a full house for the first time in two seasons. Photo from Meath senr cc Oct 2021.
19th January 2022

Author: Stephen Ball
---
Kevin Mc Grath dips under 1-50 at Abbottstown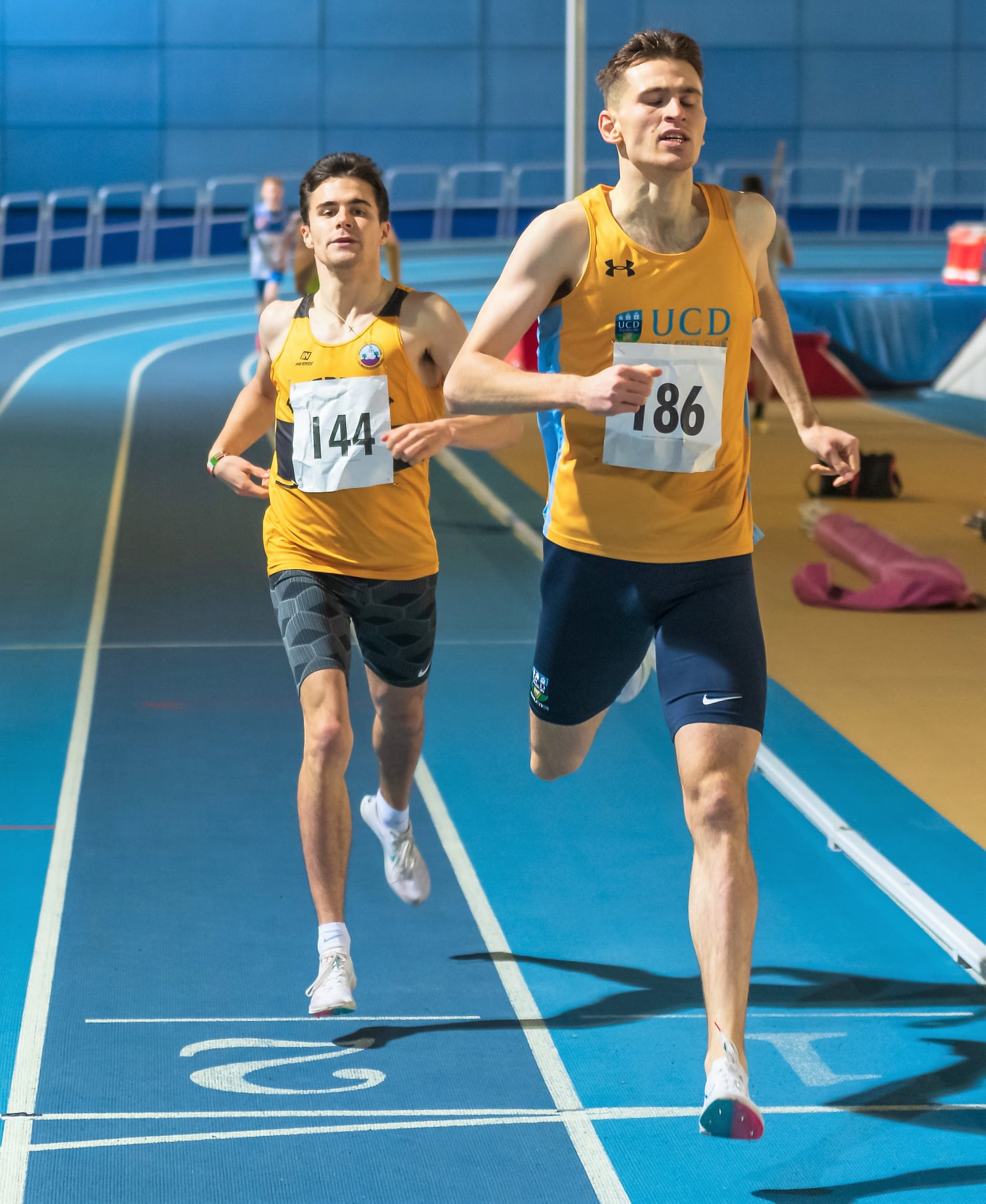 Kevin McGrath produced his best time ever indoors tonight over 800mts at the NIA live meet at Abbottstown . After setbacks to his career over the years, he still shows hunger and appetite to produce the goods. Tonight's race was blistering from the gun with Mark Milner an early favorite , after the pace maker dropped out Kevin tracked Milner a student of UCD and tried to face off with him in the home straight and both athletes achieved personal bests. Kevin's official time in second place was 1-49-89 and his previous indoor best from 2020 was 1-51.34. In record terms it is his 7th best time ever over 800mts with 6 outdoor faster times, but in radical racing terms it breaks new ground to break the 1-50 barrier indoors with 4 laps as against 2 outdoors. Both Kevin and Mark will race again over the same distance on Sunday in Athlone, best of luck to them and all the field in pursuit of PBs. Kevin's time ranks him the fastest Meath athlete on the all time list indoors over 800mts TBC. Photo from file -Meath cross country 2021
16th January 2022

Author: Stephen Ball
---
Patrick Bell and Nicky Phillips

Advance notice: Patrick Bell and Nicky Phillips memorial race will take place on Friday June 3rd 2022.
16th January 2022

Author: Stephen Ball
---
Patrick Bell and Nicky Phillips

Advance notice: Patrick Bell and Nicky Phillips memorial race will take place on Friday June 3rd 2022.
16th January 2022

Author: Stephen Ball
---
Walk Jog Run on Bohermeen track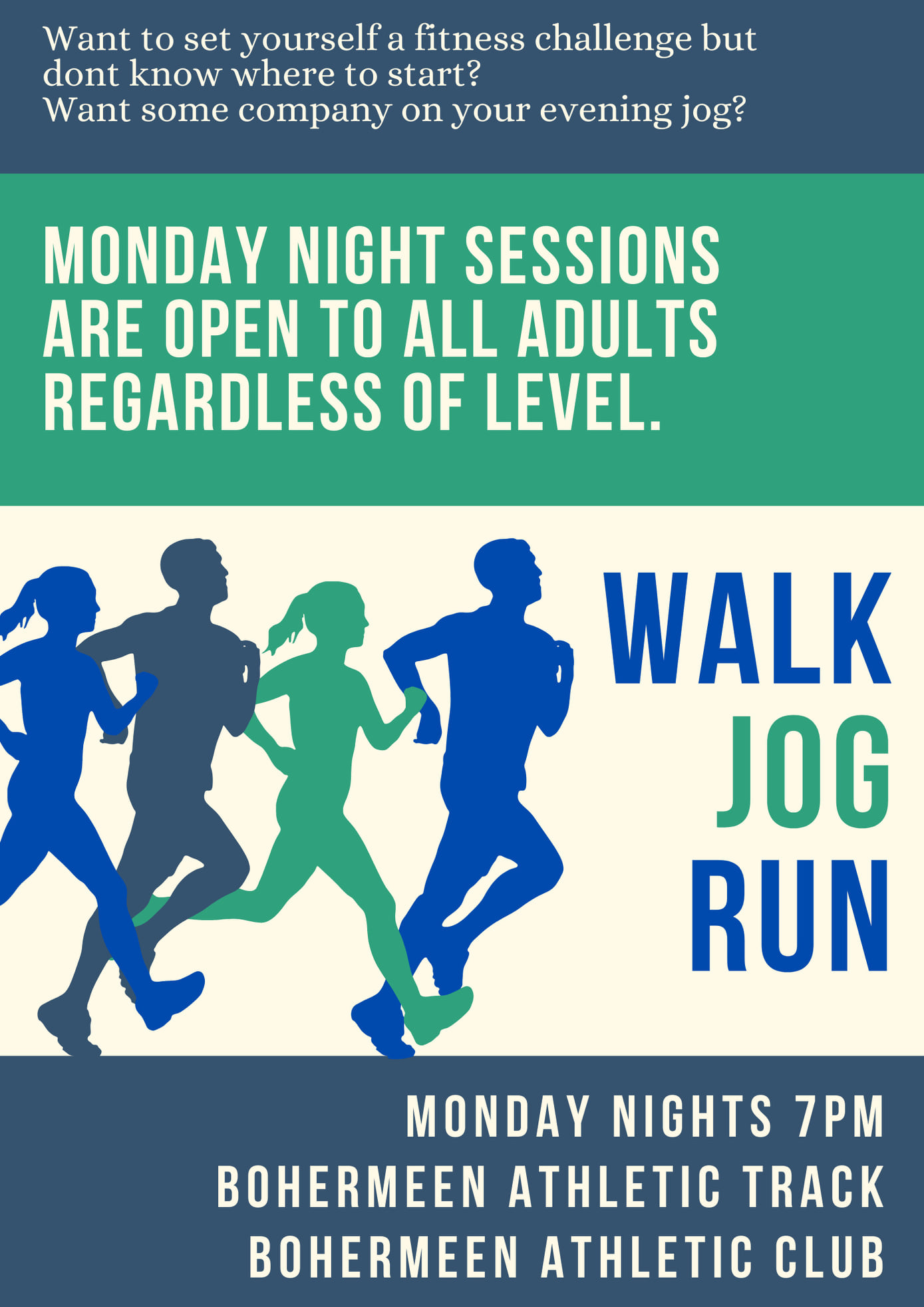 At Bohermeen Track Every Monday night at the track 7pm men and ladies welcome to run, walk run and talk. One hour of social inter action for men & ladies just arrive and introduce yourself , from now till the bright evenings and beyond ,see you there bring a friend.
15th January 2022

Author: Stephen Ball
---
Walk for Ashling Murphy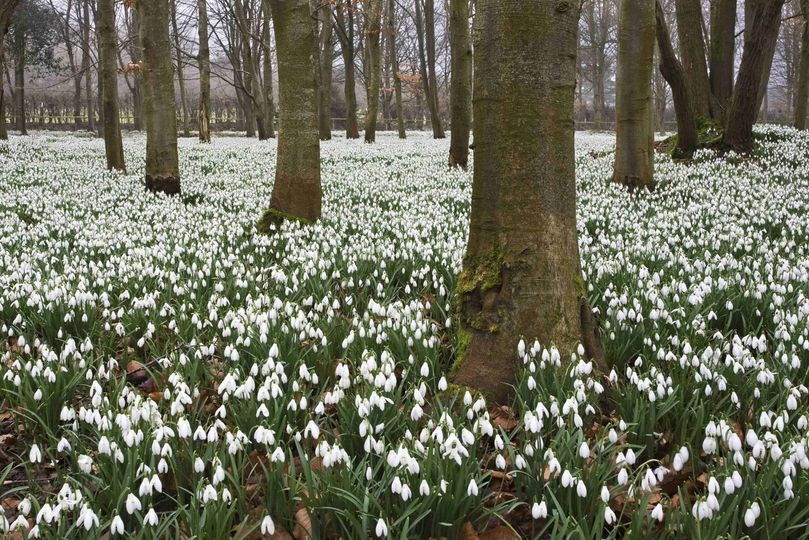 "Walk for Ashling Murphy" Snowdrops Returning Each year we all find that perfect place where the Snowdrops return, whether its along a canal bank or a country lane. "It's our place, it's your place, it's our place" Where they raise their proud heads every dull January They bring brightness to our dark days Days we hope would go quicker all 31 of them Sadly, one little Snowdrop from Tullamore won't raise her head anymore We are reminded that every Snowdrop is important and all deserve to live and enjoy life safely together God rest Ashling Murphy taken much too young. A walk will take place locally at Coogan Park in Martry on Sunday Morning at 9-30pm organised by St Ultans Gaelic club all are welcome to go along and show solidarity with her family and friends.
15th January 2022

Author: Stephen Ball
---
Blackrock AC Cross Country event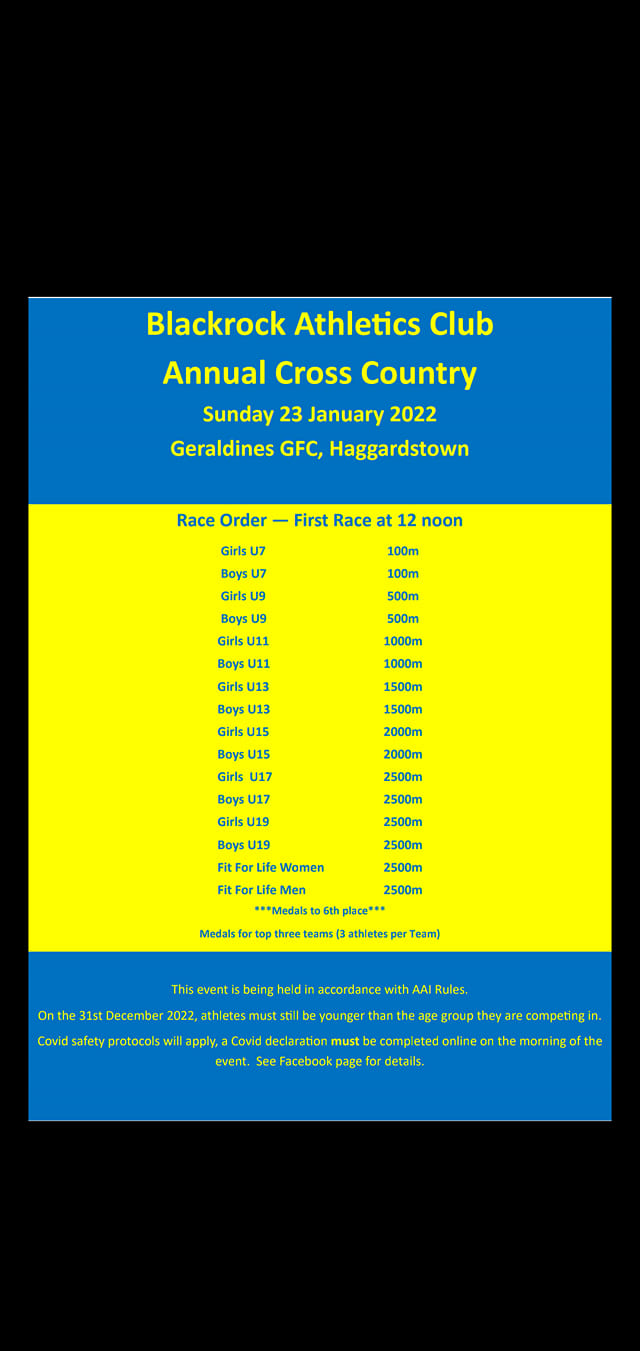 Blackrock AC Cross Country event will be held at the Geraldine's GFC in Haggardstown on Sunday 23rd January. Entry on the day at the gate €2/€3 or €10 for a family.
13th January 2022

Author: Stephen Ball
---
Club Mass

Club Mass for deceased members is on Saturday Feb 12th at 7-15pm in Bohermeen Church.
13th January 2022

Author: Stephen Ball
---
Mrs. Sheridan

Bohermeen AC would like to extend its sincerest condolences to all the Sheridan family on the very sad passing of Mrs. Sheridan of Hayestown Navan, mother of the late Paschal our good friend. May she Rest in Peace.
2nd January 2022

Author: Stephen Ball
---
Happy New Year 2022

Bohermeen Athletic Club would like to wish all of its members and their families, its sponsors and supporters and all those who may travel to the parish in 2022 and in previous years, a very happy 2022. In the past 2 years we as a planet of combined inhabitants have begun to appreciate what and how important life is and may God bless everyone with both good physical and mental blessings for the year ahead. May each and every one enjoy 365 days of 2022 with prosperity of mind and body. Or as Vera Lynn might have sung "till we meet again on muddy fields, smooth roads or rubber tracks" Have a great 2022 Stephen Ball
28th July 2021

Author: Stephen Ball
---
Training break

Bohermeen AC juvenile members are now on a well-earned break from last night from group training until August 18th, when our groups resume training and, on the night, we will present all outstanding medals with some light refreshments. Bohermeen would like to congratulate all our juvenile members who have been active through the current season with many winning county and provincial medals, a number have qualified to take part in the forthcoming National championships. Our juvenile coaches are thanked for their continuous commitment and encouragement to all our young members.
The club Is currently undergoing huge investment for the future by installing a Tartan field events area at the track. Following august 18th post covid we may be in a position to take new juvenile members as we had many requests over the summer.
23rd July 2021

Author: Stephen Ball
---
Patrick Bell 5 mile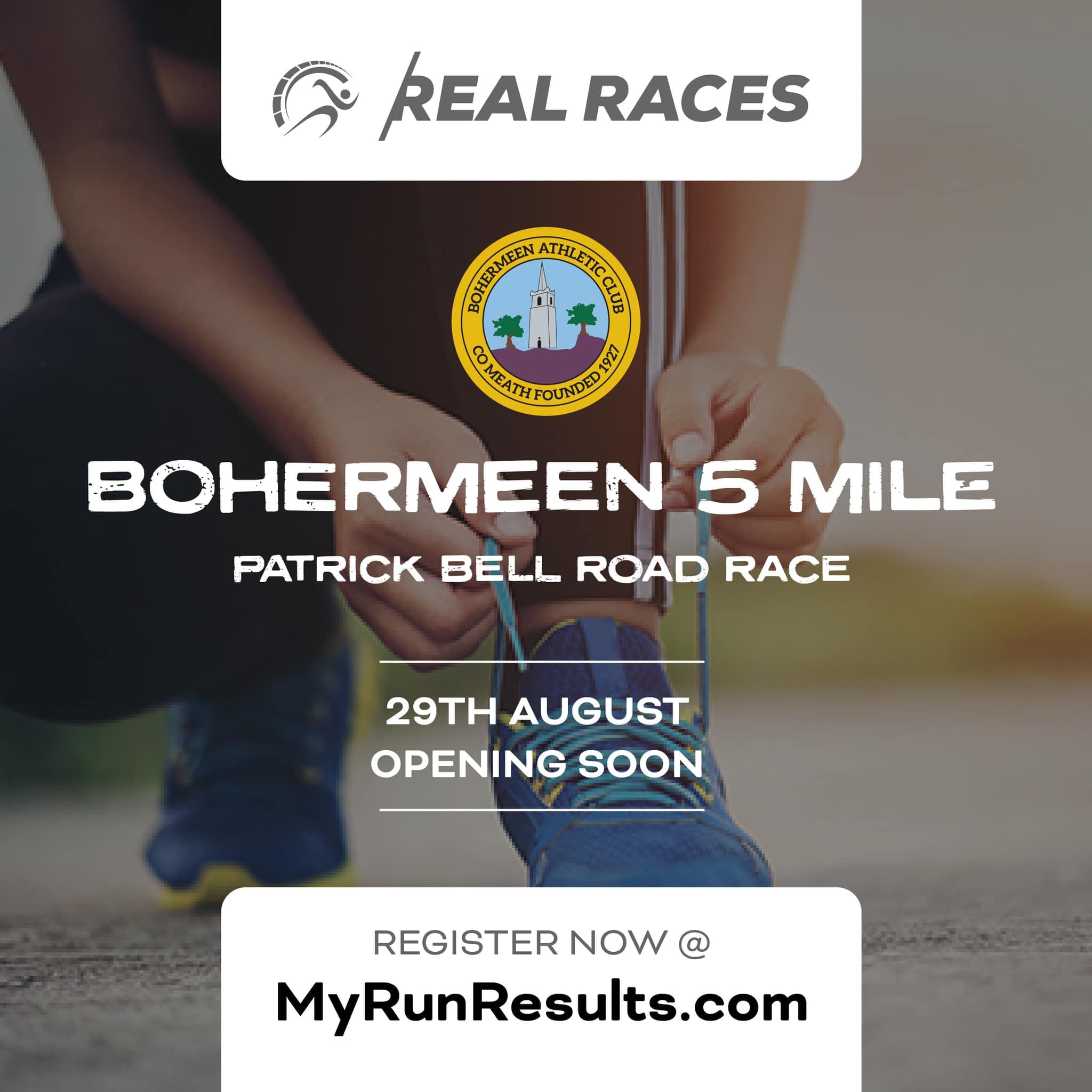 Patrick Bell memorial 5 mile @ Bohermeen Sunday August 29th at 10am Entry opens July 29th @ myrunresults.com Limited entry
20th July 2021

Author: Stephen Ball
---
Leinster Gold for Cillian Yore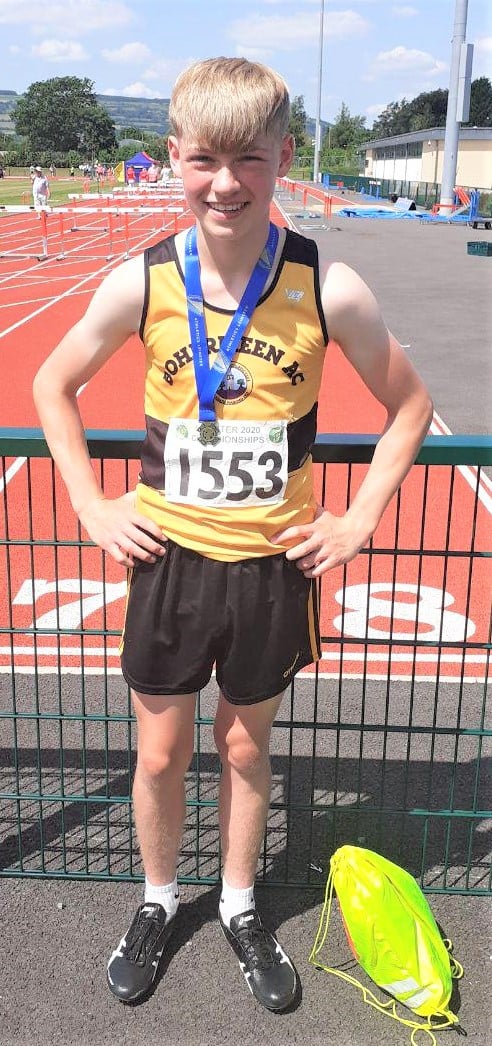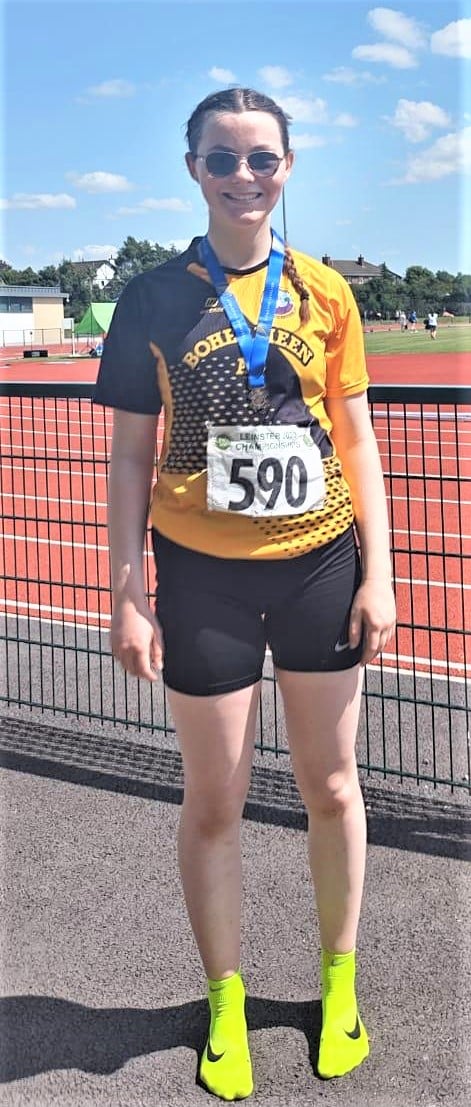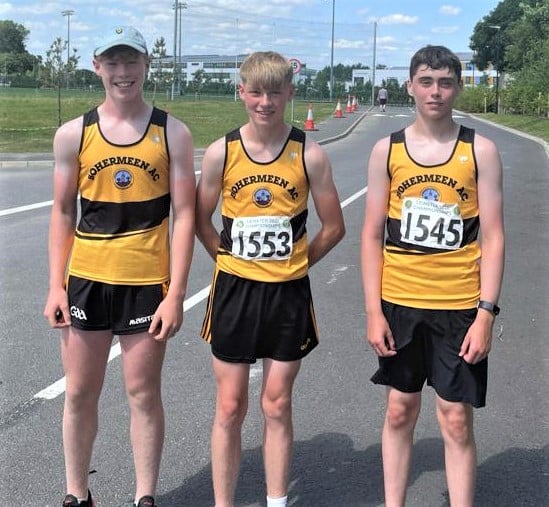 Bohermeen were well represented at the Leinster juvenile athletic championships at Carlow IT over the weekend, where like the rest of the country the temperatures were in the high 20s. Over the two days of intensive competition several club athletes made the podium and some came very close. On Sunday Cillian Yore who recently won the Meath 100 & 200mts titles, in Carlow he won the Leinster under 15 Long jump title with his best jump of 5-49, he also placed 4th in the final of the 200mts later in the day.
Beth Miskelly placed in three events, taking 2nd place in both the Shot Putt and Javelin throwing 10-20 and 23-14 respectively, she also won a bronze medal in the high jump clearing 1-45. Cara Brennan took 3rd place overall in the girls under 14,1500mts mts in a time of 5-03.08 and in the same race Emma Hunt placed 5th in a time of 5-09.19 from 27 runners. Emma Smith placed 5th in the under 15 long jump with a jump of 4-38 and also made the final of the 100mts. Cian Cassidy was 5th in the final of the boys 100mts posting 13-62. Also in action at Carlow were Euan Carolan in the under 15 200mts and Tiernan Anderson who was in action in the under 16 200mts. Rebecca Reilly was in action in the girls under 17 400mts where she made the final 8.
14th July 2021

Author: Stephen Ball
---
Meath Athletic Championships July 14th 2021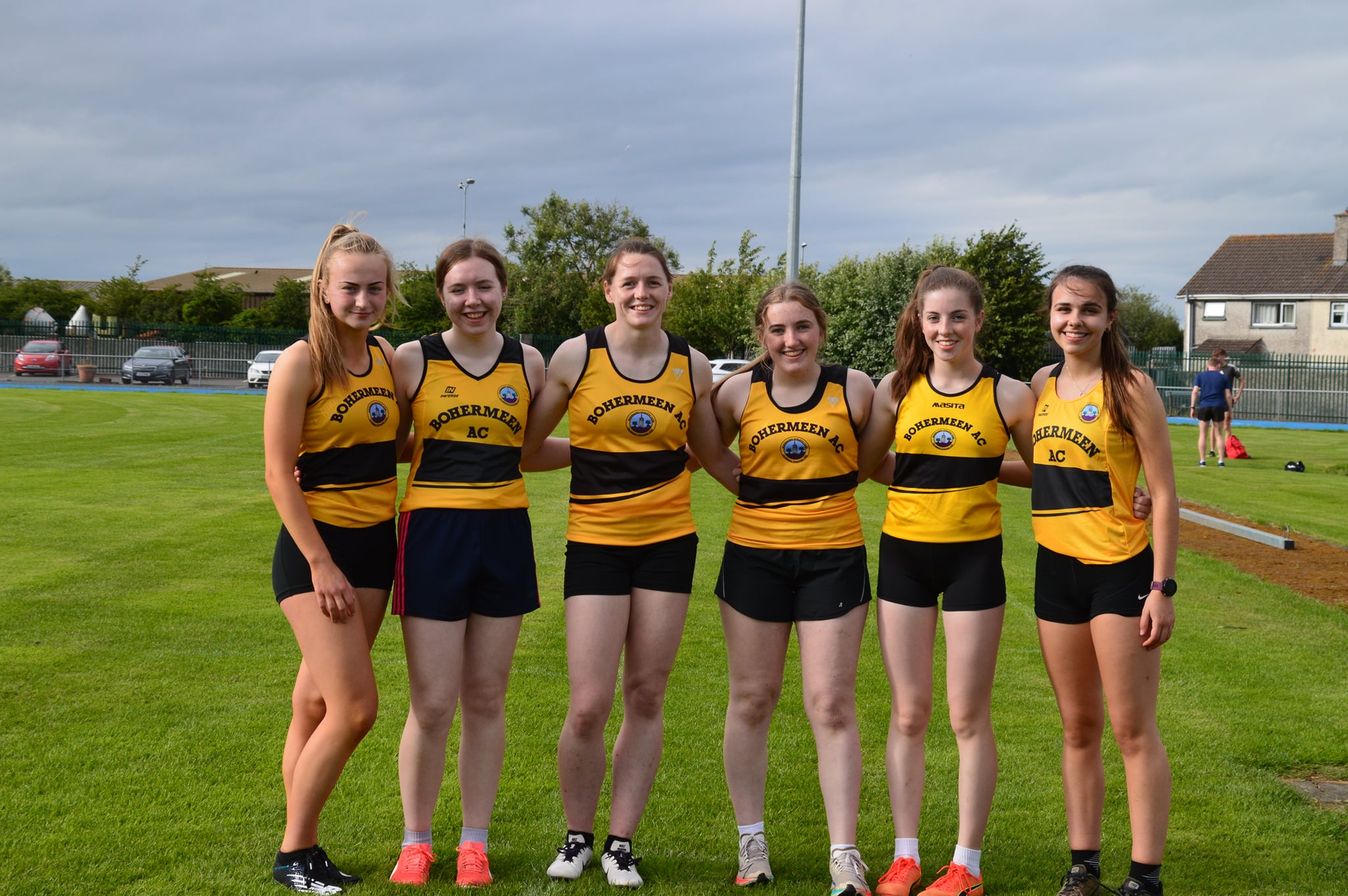 Well done to all our club athletes who took part in the 1st day pf the Meath senior, junior, master & under 18 championships, on the night we were represented by Karen Dunne David O,Connell and our under 18 athletes Billy McCabe, Cara Martin, Molly Kangley, Rebecca Reilly, Eva Brennan, Emma Kate Ball. On the night everyone gave a great account of themselves with many achieving PBs and many made the podium positions on the night. The 2nd day is on Wednesday July 21st and thanks to all the officials on duty for organizing these championships. Congratulations to all the clubs in action on the day and how it was a sight to see our future senior athletes from the under 18 grade, not just in action but engaging with fellow club athletes from the various clubs across the county. Best of luck to all our younger members who travel to Carlow IT on Saturday and Sunday to the Leinster championships.
12th July 2021

Author: Stephen Ball
---
Leinster T & F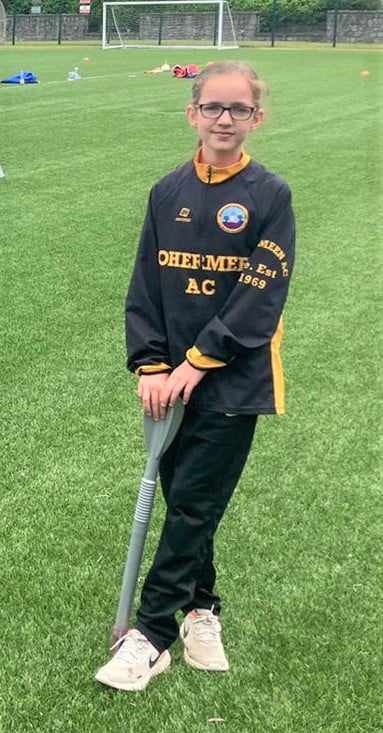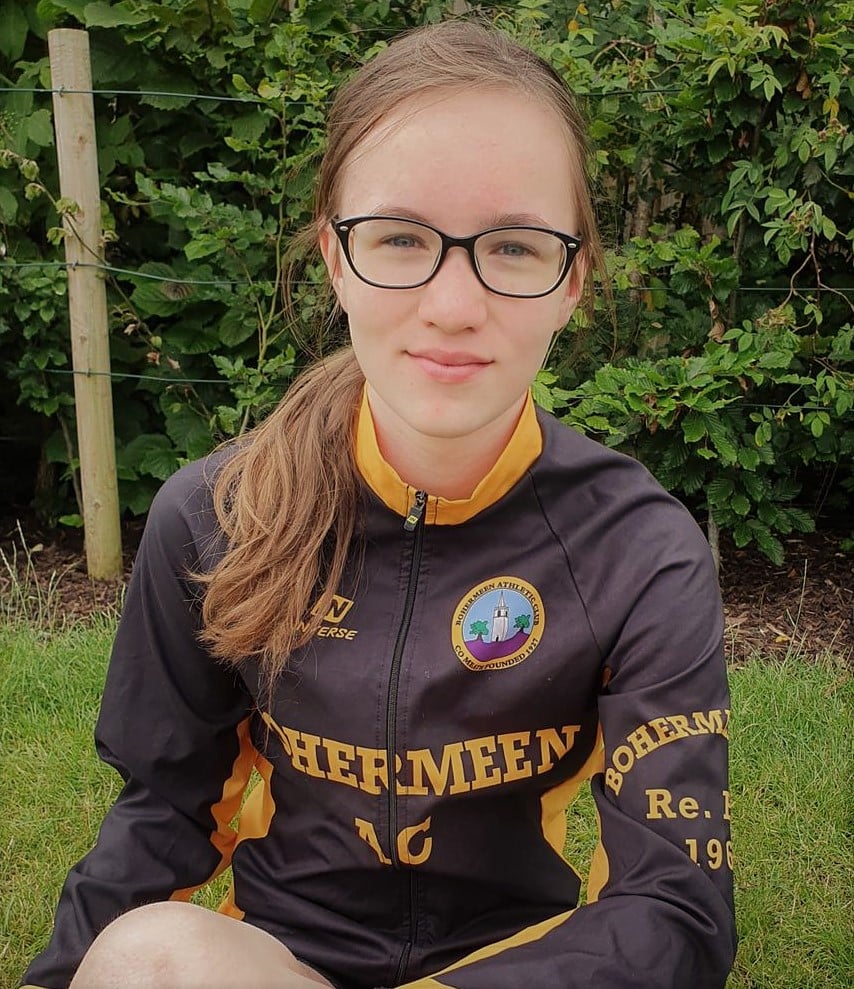 Congratulations to our athletes who took part in the Leinster juvenile athletic championships at Carlow IT last weekend, pictured Dean, Danu and Inga who competed with distinction in their respective events. Next weekend we will have a larger team in action at the same venue on Saturday and Sunday and best of luck to all. Midweek it's the turn of the Senior, junior, master and U18 athletes at the Meath championships on Wednesday July 14th & 21st at Claremont stadium Navan. Next weekend there is a 5k beach run at Clogherhead for adults and 1 k run for juveniles not in Leinster action.
9th July 2021

Author: Stephen Ball
---
European u23 Championships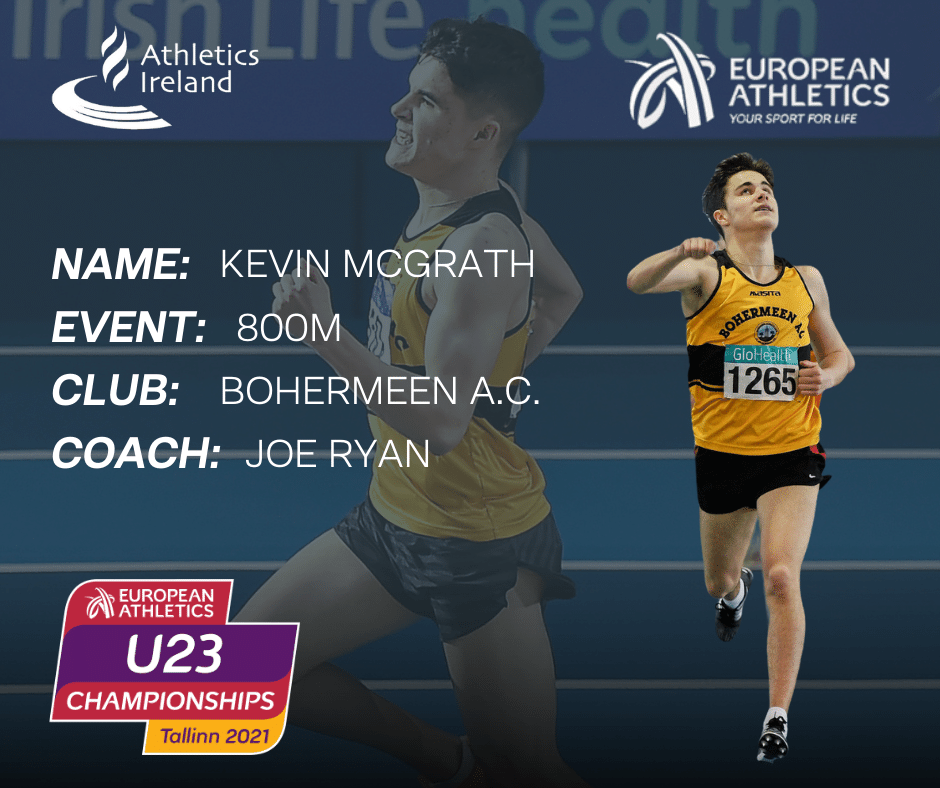 Kevin McGrath missed a European final berth by one place earlier today in Estonia. When he lined up and raced in heat 3 in the European under 23, 800mts against some of his counterparts, who like himself. Had prepared for years to both qualify and take part in these championships. The final heat proved to be the hottest as with the tight qualification rule of the 1st 2 over the line and only the first 2 fastest losers overall, it was always going to be a hot one.
As the race unfolded it turned out to be a blanket finish and the heat was won by Djoao Lobles of the Nederland's and the following countries were also in the final Great Britain, Belgium, Slovakia, Italy, Spain and Turkey. Kevin was the 9th fastest from the three heats but unfortunately only the top 8 progressed to the final, Kevin posted 1-48.68 in his heat where he placed 5th and was only fractionally outside his personal best. Being back at the European stage is a fine reward for his efforts on the road back from many years of injury and hopefully this performance will be a stepping stone to greater days ahead. Despite his young age of 22 he is an old master with having competed at the European Youth Olympics in 2015 where he won the 1500mts and reached the under 18 final of the 800mts in 2016 to place 4th. Congratulations from all in Bohermeen AC on today's performance. Photo from AAI page
28th June 2021

Author: Stephen Ball
---
Bronze medal for Karen Dunne at National seniors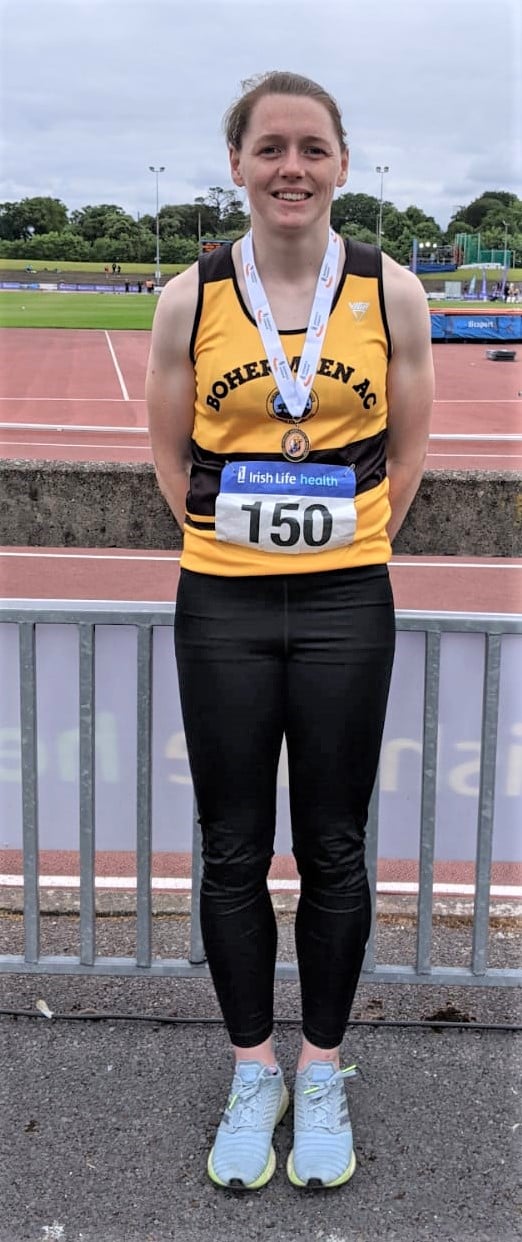 Karen Dunne took third place in the National senior 400mts hurdles championship at Morton stadium on Saturday afternoon. Competing in her 18th consecutive season through juvenile, junior and into senior ranks. Coached by Ciaran Conlon she took second place in the heat on friday evening and in the final on Saturday afternoon she lined up between both the pre-race favorite's Deirdre Murray of Na Fianna and the eventual winner Kelly McGrory of Tir Chonaill. As the race unfolded the pre-race favorites held strong on the back straight and Karen as her usual form came through very strong in the final half of the race to take her third consecutive medal in the 400mts hurdles this time the bronze medal posting a time of 1-00.63, she placed 2nd in 2020 and third in 2019. Karen is coach to many young teenage Bohermeen athletes and no doubt they will be inspired by yet another top class performance by her. Kevin McGrath also put in another top class performance ,like Karen he placed second in his heat of the 800mts on Friday evening and lined up for his first senior final since 2018 .Making the final was an opportunity to show the under 23 selectors that having recently achieved two standards for the European under 23 championships that he was in good form and he was contented not to challenge for the podium positions with the euros on his mind and came home not too far off the winner John Fitzsimons from Kildare.
Rose Finnegan running for her college UCD also put in a great performance too qualify and run the senior 1500mts and like Karen and Kevin came through from Bohermeen underage athletics. Meath championships Like the senior athletes many young athletes started their careers at the county championships and this year the events were held over various venues and dates for obvious reasons and many young club athletes were in action and thanks to all the parents, coaches for their help over many days. Two of the club's gold medal winners of the weekends were sisters Leana & Kayla Coyne who won their respective events under 11 Long jump and 500mts under 10. The championships continue this coming weekend with the older age groups.
30th November 2020

Author: Stephen Ball
---
0-3k Programme

Bohermeen AC.0-3k programme will resume on Tuesday December 8th and continue on December 15th & 22nd for those who signed in initially. Starts sharp at 7-15pm.
3rd November 2020

Author: Stephen Ball
---
Bohermeen Athletics Track

Please note following the Covid closure track re opening, all track users must have a Track members card to use the facility. See the signs at entrance to the track. Please don't cross the fence to enter for your safety use the entrance gate.
7th September 2020

Author: Stephen Ball
---
National Masters 5000m
Congratulations to Tom Durcan who won the National masters 5000mts track title on sunday in Santry stadium in the M-75 category in a time of 22-06. ( photo is from a previous occasion)
20th June 2020

Author: Stephen Ball
---
Patrick Bell and Nicky Phillips Memorial 5k 2020

Bohermeen AC .Hope to reschedule the recently postponed 35th annual Patrick Bell & Nicky Phillips Memorial 5k on Sunday September 20th at 2pm. Entry will as usual will be online through our race timing partners www.myrunresults.com . Wishing all our members and supporters all the very best as we emerge from the covid 19 emergency and we welcome many friends back as we play our part through sport in helping create greater Physical and mental well-being among our members ,family and friends. The event has being re submitted to change the permit from the original date of June 5the
17th February 2020

Author: Stephen Ball
---
Bohermeen AC at the National Juvenile B & Masters Cross Country
The beautiful venue, the former of home of the Irish statesman Charles Stewart Parnell and unlike Athenry it definitely wasn't "Lonely around the fields of Avondale". Thousands of adults and juveniles from all over Ireland travelled to the Wicklow venue. Bohermeen had a bus travelling with almost 30 juvenile members taking part and Tom Durcan in the masters race. Full report and more photos later , briefly Cara Brennan and Emma Hunt placed 3rd and 4th overall in the girls under 13 race and Ben Corkery placed 12th in the boys under 15 race and Aisling Davis placed 11th overall in the girls under 17 race
29th August 2020

Author: Stephen Ball
---
National Senior 400m hurdles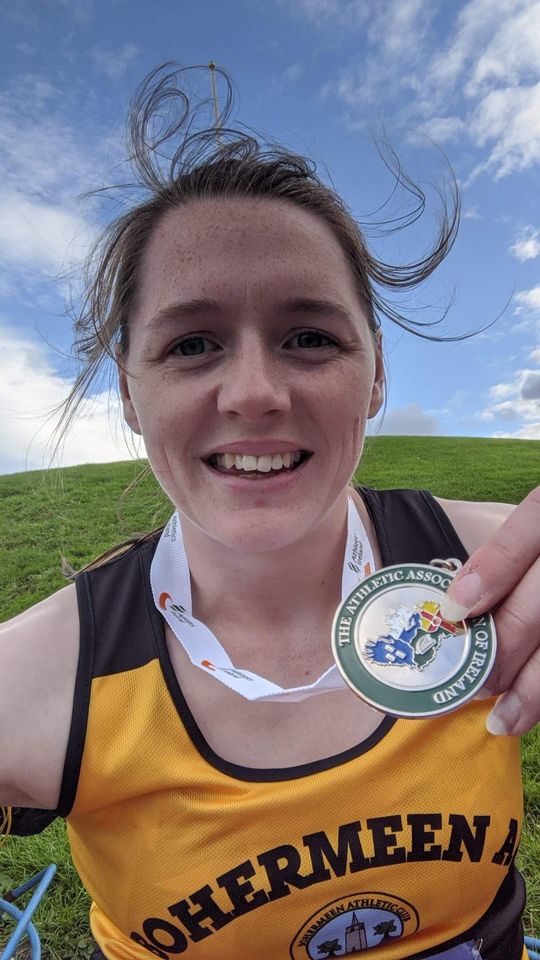 Well Dunne, Karen Happiness is not always as the TV often said "A Cigar called Hamlet" or perhaps the final act of Hamlet. But ask Karen Dunne as she clasps her National senior silver medal today, after producing another epic performance to take the silver in today's National senior ladies 400mts Hurdles final at Morton Stadium.

In a year that has been long and often documented for the wrong reasons. Today many athletes were delighted and privileged to get a chance to participate in the premier event of the athletic calendar. So winning medals was the big bonus for many and Karen made the choice like many to continue training and today it paid off, as having qualified for the final easily on Saturday. Today she lined up for the final as the 4th fastest on paper. But like the bookies docket it means nothing until the result comes in, the final ran through to form with the title going to Nessa Millet from St Abbans in a time of 59-52 to retain her title , but behind her there was a battle for silver and bronze, which weren't sorted until the home straight, and with a facing strong wind Karen Dunne entered the final straight in 4th place and true to her nature and her stubborn athletic maturity she pushed hard to the line to win the silver medal in a new personal best and Bohermeen club record of 61- 42, improving on last years, time and position of 3rd place. All Bohermeen AC members extend their congratulations on her fine performance as do all the young club athletes she coaches in Bohermeen, with special thanks to her coach Ciaran Conlon who always has the ability to get the best out of athletes .
16th January 2020

Author: Stephen Ball
---
Run Monday

Run-Monday. Every Monday night at Bohermeen Track 7pm. Beginners & Others
8th January 2020

Author: Stephen Ball
---
Meath Masters XC and Meath juvenile cross country league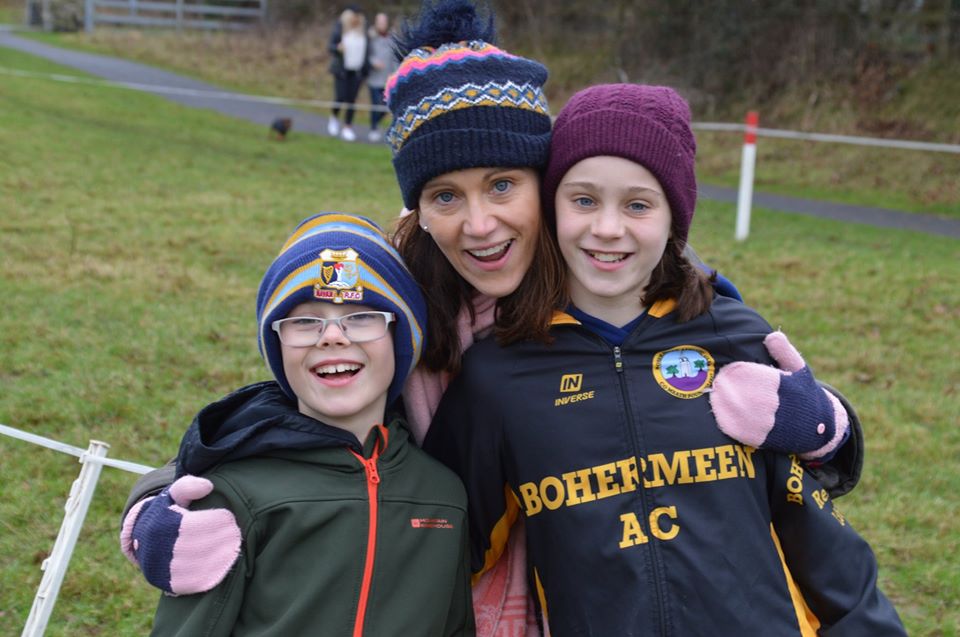 Meath Masters CC CS & Final of Meath juvenile cross country league at Trim January 5th 2020 Congratulations to all our members who took part in the above CS at Trim.
23rd December 2019

Author: Stephen Ball
---
Bohermeen Half Marathon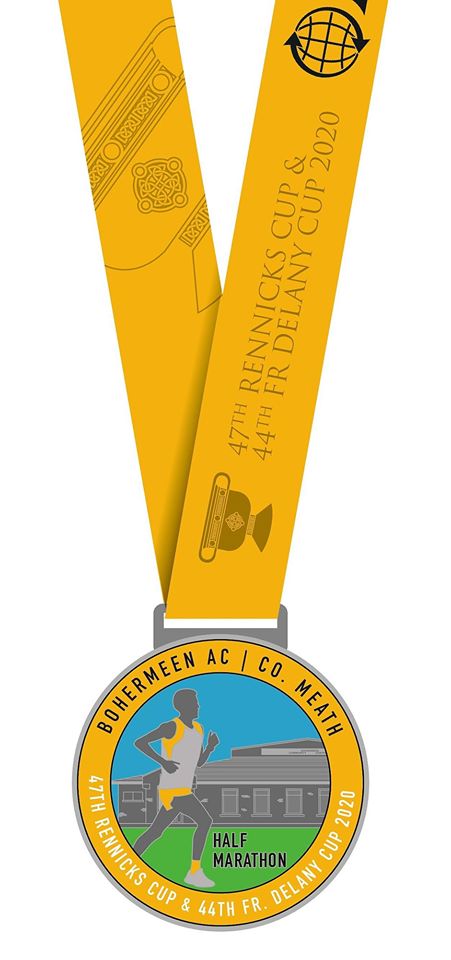 Just a designers glance at the 2020 half marathon medal for Bohermeen on March 8th 2010, coming in at 70mm. As they say it's going to huge and not just referring to the medal size, but don't leave it too late to enter as the event is expected to close very soon and not forgetting each participant will also receive a long sleeve technical t shirt. Enter through myrunresults.com
10th November 2019

Author: Stephen Ball
---
Rennicks Cup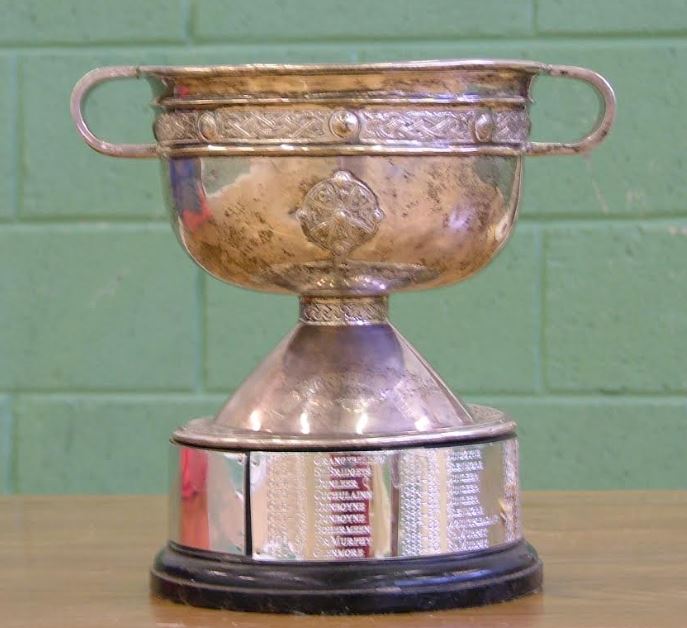 Rennicks Cup -Meath Spring Half Marathon in Bohermeen. March 8th 2020 at 11am. Entry open Friday November 15th at 12 Noon , through myrunresults.com and will close when limit is reached.There is no lottery on this one,but be alert to the online entry opening.
6th November 2019

Author: Stephen Ball
---
Juvenile Training

Bohermeen AC Juvenile training is cancelled tonight Wednesday November 6th due to heavy rain currently falling and forecasted, good luck to all our juvenile athletes taking part in the Leinster cc cs on Saturday next in Ferbane Co Offaly
4th November 2019

Author: Stephen Ball
---
Meath Cross Country League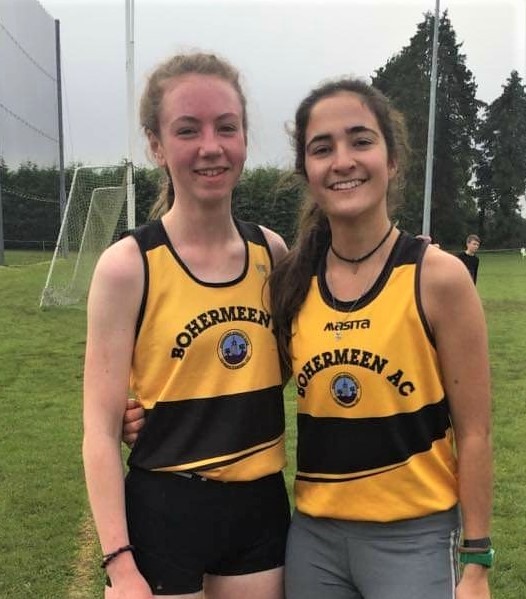 Bohermen young juvenile athletes travelled to Enfield to take part in round 1 of the Meath cross country league, which was staged at Na Fianna Gaa grounds in Enfield village by Na Fianna Athletic Club. Overnight torrential rain left the conditions testing to say the least, but there wasn't a dry field in Ireland this morning so as they say it was the same for everyone. The club was represented by almost 50 young runners on the opening round of the league which continues in Trim on December 1st and concludes in Bohermeen on December 8th
3rd November 2019

Author: Stephen Ball
---
Dublin Marathon 2019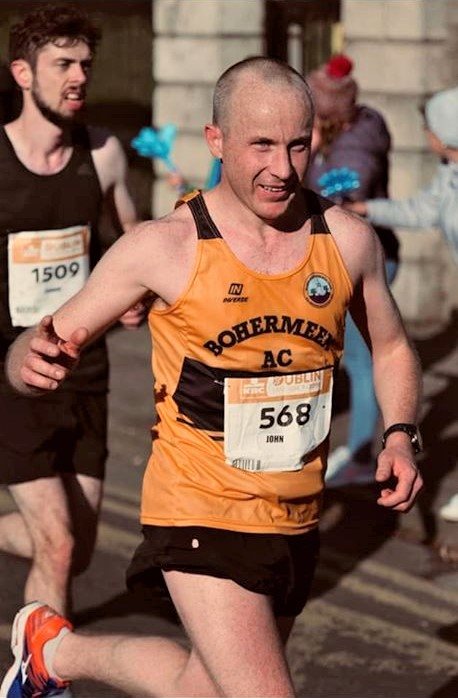 This year's race saw just under 18,000 runners complete the course from a entry of over 22,000.This years race also saw the fastest time ran by an Irish man in 18 years approx. But on the home front the club was led home by John Carroll who produced the run of his life to post a new personal best of 2-52.44 taking a full 5 minutes of his previous best of 2-57 posted in 2016,this was Johns 8th marathon and in GAA terms it was the best of his super 8ths.Not far behind was Eoin Ryan also dipping under the magical 3 hour barrier and clocking 2-55.47 and 3rd scorer on the club team home was Bobby Tallon posting 3-06.27


Some results from the club and some local runners, apologies if any one is left out. John Carroll 2-52.44, Eoin Ryan 2-55.47, Declan Keogan 3-05.21, Bobby Tallon 3-06.27, Shane McCabe 3-09.02, Gerry Nealon 3-11.24,Damien English 3-19.57, Gerry Fitzsimons 3-28.18, Jackie Fitzsimons 3-28.19,Stephen Fay 3-33.12, Tom Monaghan 3-33.43, Richard Ball 3-49.03, Rachael Hennessy 3-50.14, Chris Perle 3-59.52, Gary Woods 4-03.22, Ollie Keogan 4-04.10,Elaine Coyne 4-04, Chris Murray 4-04,Caroloine Walsh 4-06, Sandra Durcan 4-06,Chris Curtis 4-07,Eamon Boylan 4-07.59, Damien McLoughlin 4-13.26, Adrian McNally 4-15.43, Bridget Reilly 4-17.05,Paddy Boylan 4-25.38, Sheila Harkin 4-35, Vicky McCabe 4-58.16,Fiona Keogan 5-39.17.
2nd November 2019

Author: Stephen Ball
---
Bohermeen AC Half Marathon 2020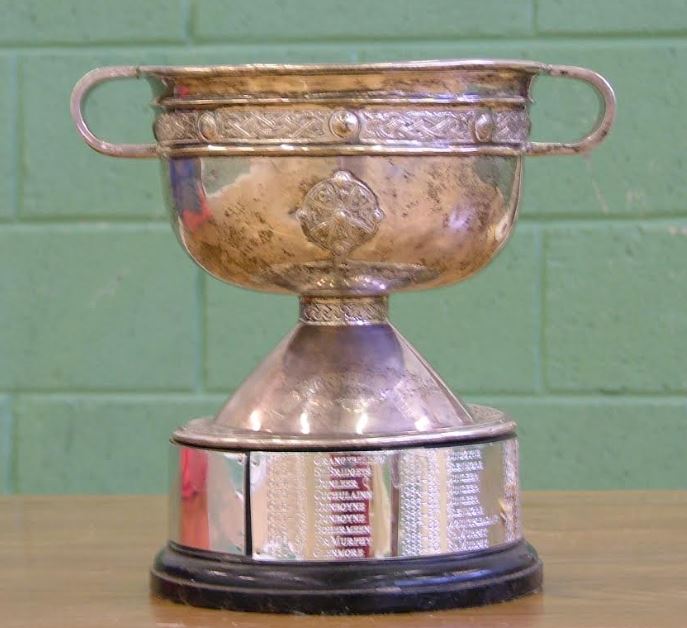 The Bohermeen AC spring Half Marathon will take place on March 8th, 2020
26th October 2019

Author: Stephen Ball
---
Bohermeen AC at the Dublin Marathon 2019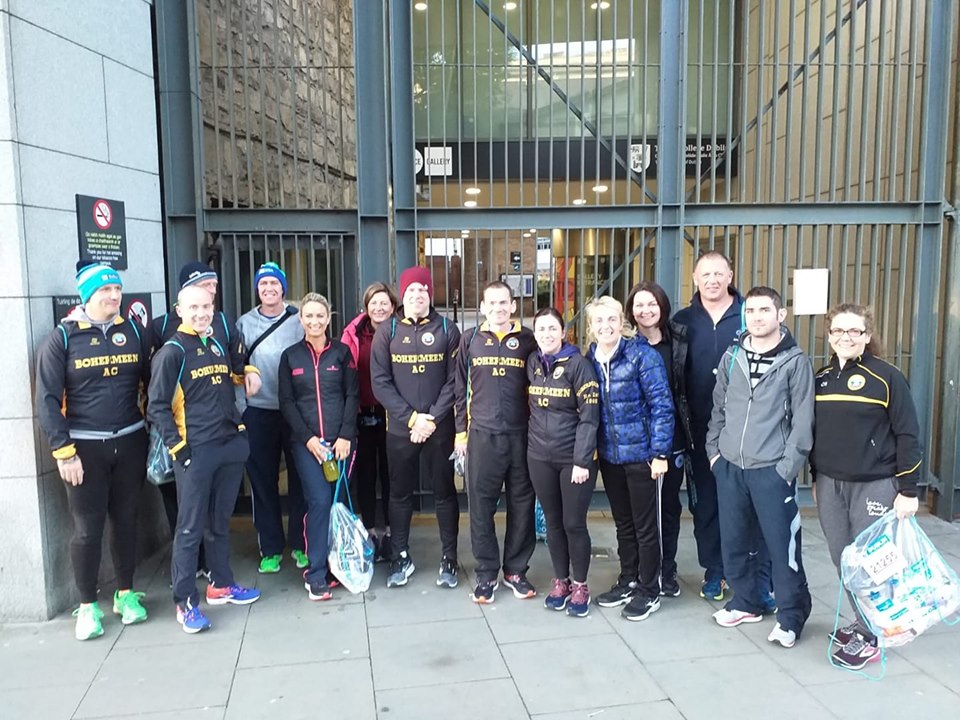 The Bohermeen crew ready to take on the DCM 19, best of luck to everyone
20th October 2019

Author: Stephen Ball
---
Children on the Run league 2019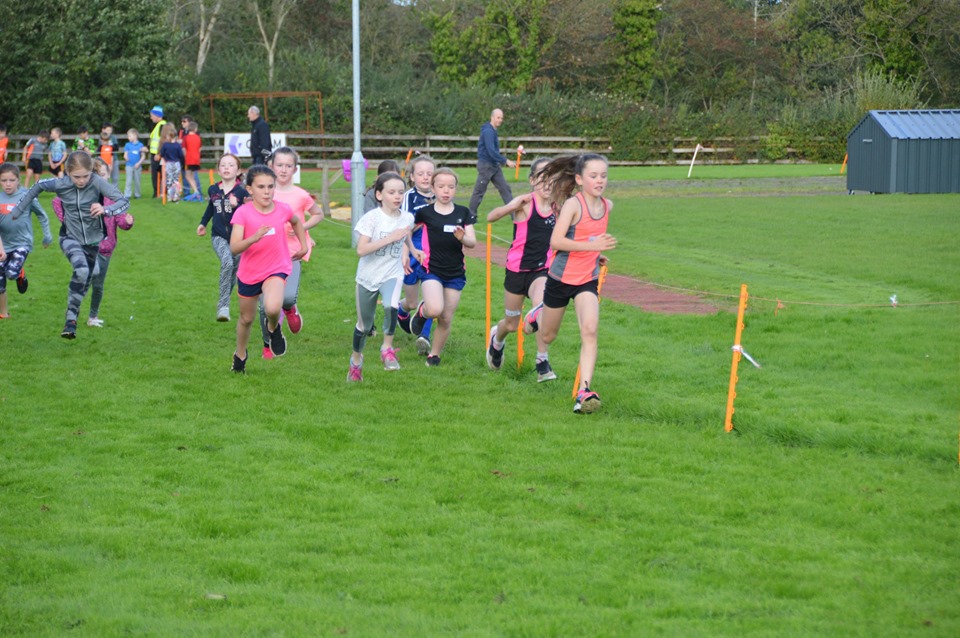 Congratulations to the 300 boys & girls who took part in this year's league, which concluded on Saturday last. This year was the 20th year of the league and we would like to thank all the children that took part, the parents and the various schools who have helped promote this event each year and thanks also to Rooney's Home value Oldcastle rd Kells for sponsoring the programmes.
13th October 2019

Author: Stephen Ball
---
Children on the Run 2019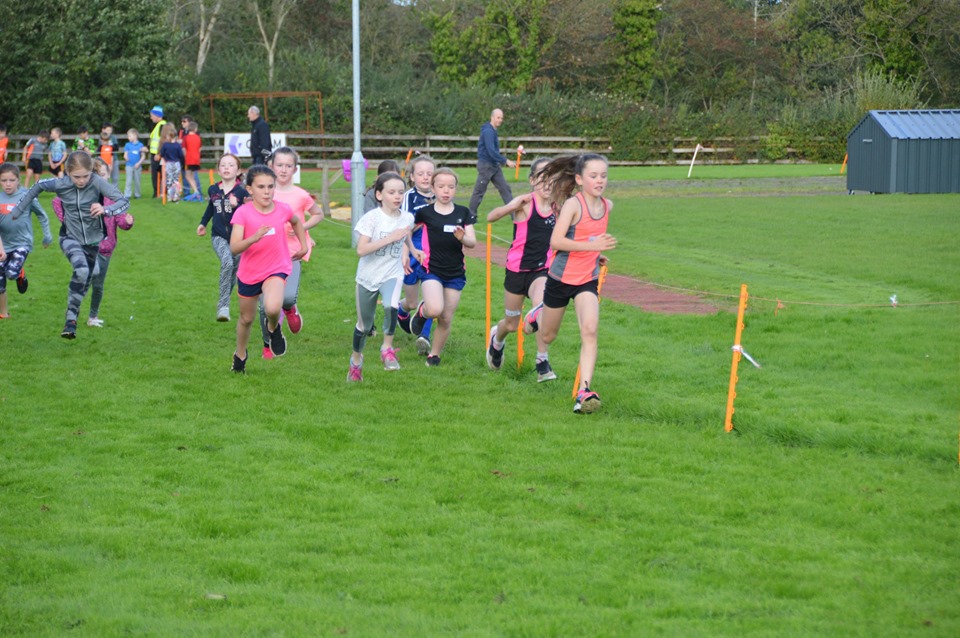 Final Day of Children on the run which is a running league for boys and girls aged 4-15
1st October 2019

Author: Stephen Ball
---
Bohermeen AC 50th Anniversary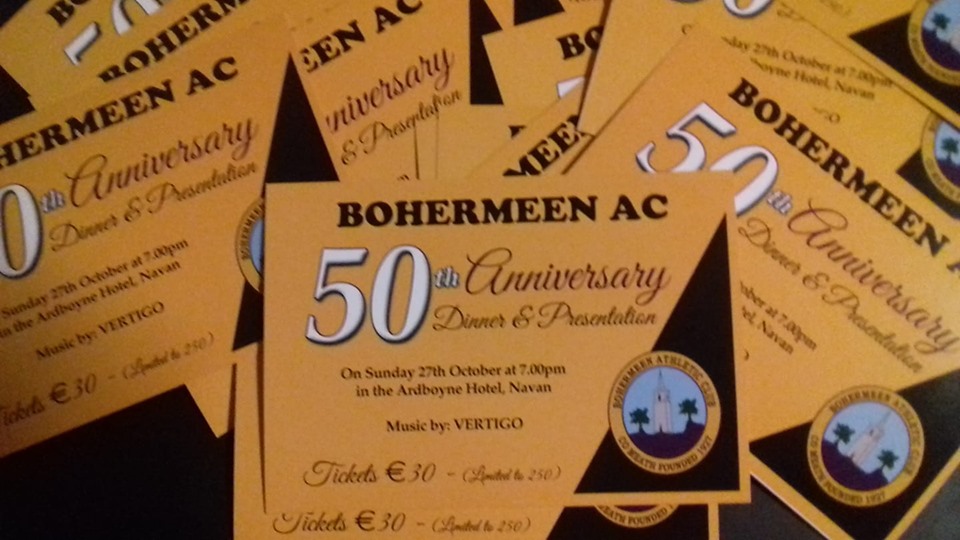 Looking forward to Bohermeen AC 50th celebration night on October 27th tickets are going fast.
28th September 2019

Author: Stephen Ball
---
Star of the Sea XC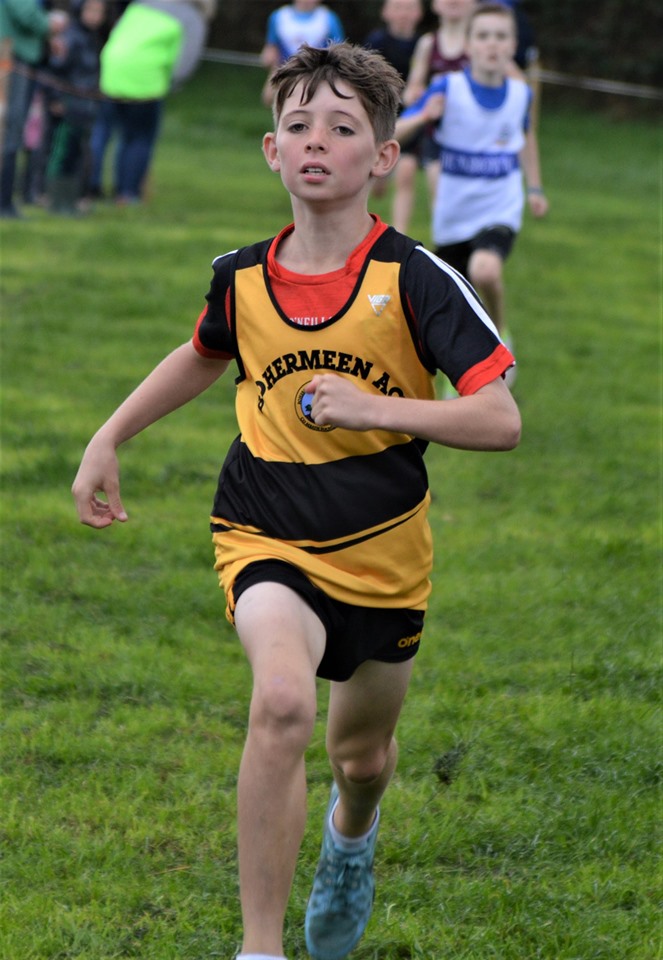 The annual Star of Sea cross country races took place for the 31st time on Sunday last and despite the early morning rain the "Hills were Alive" at least those of Grennanstown Stamullen with the sound of both young and mature voices on Sunday morning. Clubs from many counties took part hence rising the tempo and quality of each race, the course may be testing but underfoot conditions will always be solid.

The event was well organised as always, Bohermeen AC were represented by almost 40 on the day and well done to each and everyone. Congratulations to Star of Sea AC and to Brendan Meade for another great promotion and in no small way continues the great heritage of cross country athletics in Co Meath..
12th September 2019

Author: Stephen Ball
---
Bohermeen AC in Wales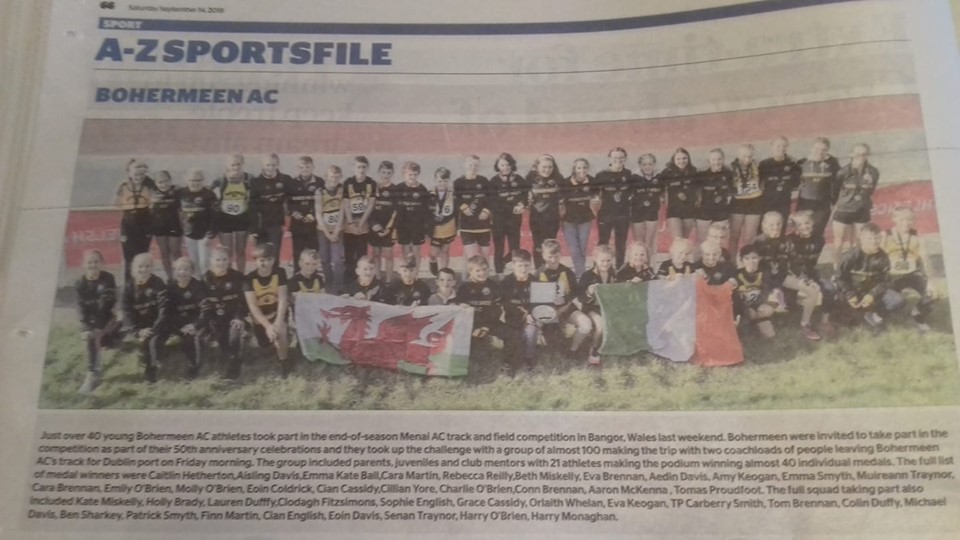 Bohermeen AC in Wales in this week's Meath Chronicle.
15th August 2019

Author: Stephen Ball
---
Castlepollard 5k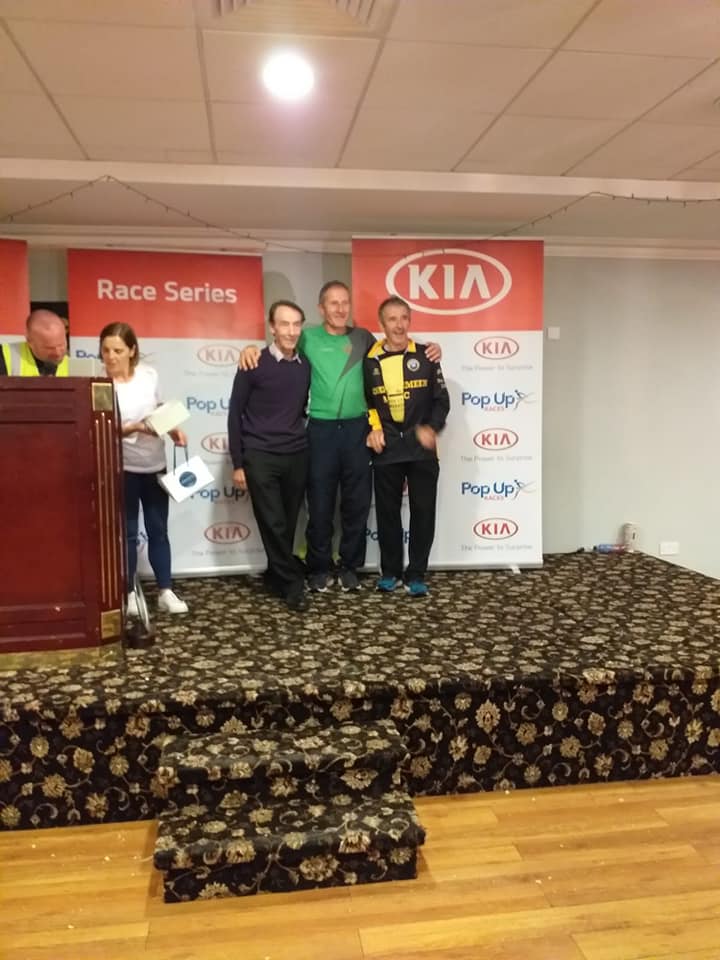 Some great results in from Castlepollard 5k tonight, Tom Durkin 1st O70, Marion Morris 2nd O55 and David O Connell 2nd O55
9th August 2019

Author: Stephen Ball
---
50th Anniversary Dinner and Presentation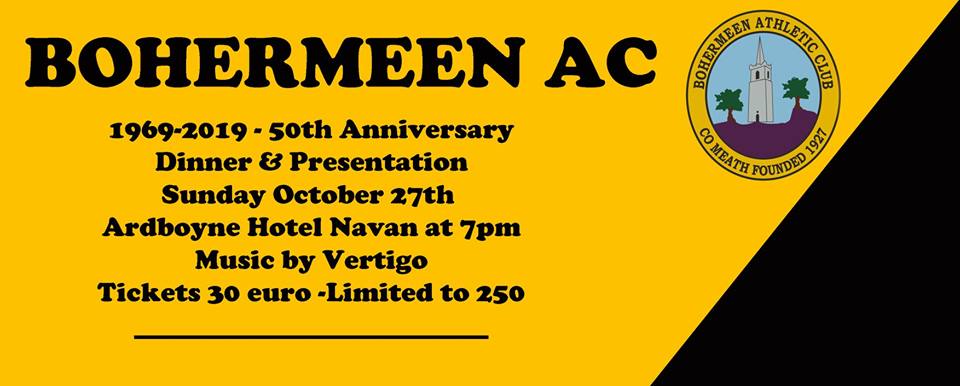 Bohermeen Athletic Club will celebrate the 50th anniversary of the club since it was reformed in 1969; the celebratory dinner will take place on Sunday October 27th in the Ardboyne Hotel Navan,with music by Vertigo. Tickets will be available to purchase soon from any member and there is a limited number of 250 available, but they can be pre booked in advance by contacting Stephen Ball 086-0792580, tickets are priced at 30 euro each.
22nd July 2019

Author: Stephen Ball
---
All-Ireland Juvenile B Championships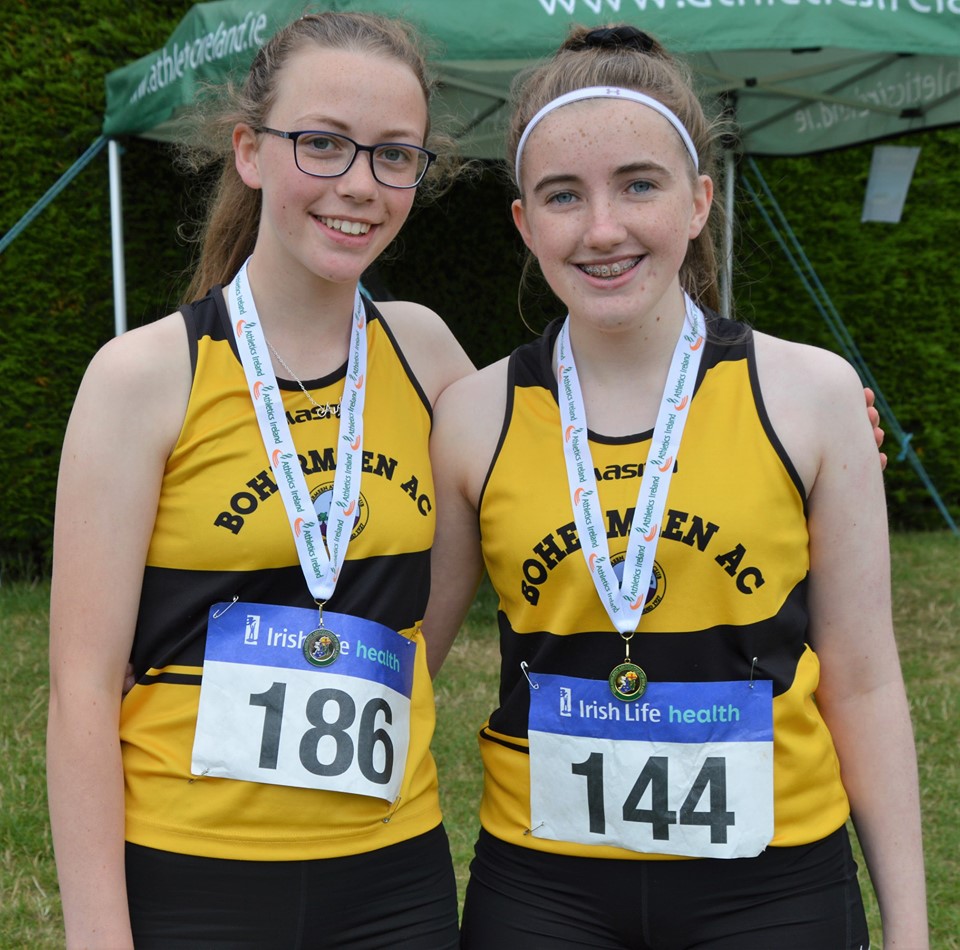 Bohermeen athletes were in Gold and Silver mood at the All Ireland Juvenile B juvenile Championships at Tullamore on Sunday. After taking part in these championships for the last four consecutive years Emma Kate Ball finally made the podium and was rewarded with here yearly persistence by winning the girls under 16 Shot Putt title from her club mate Aisling Davis who won the silver medal. Also making the podium on Sunday was Cillian Yore who retained his age group High Jump title when he cleared 1-36 mts a new personal best to win the boys under 13 event and also at the same time he contested the under 13, 80mts sprint and after winning his semi final with ease he took an excellent silver in the final to round off a good weekend.


Cara Martin also had a great weekend at the championships and came agonisingly close to making the podium, as she placed fourth in the girls under 16 long jump just missing out on the bronze position by 2 cms, Cara also made the final of the girls under 16, 100mts.Well done to all who took part from Bohermeen on Sunday , where clubs taking part came from all over Ireland.
8th July 2019

Author: Stephen Ball
---
Juvenile training break
Bohermeen AC Juveniles are on a break from scheduled training for a few weeks, parents of registered juvenile members will be texted when training is resuming in late July. Enjoy the break before training resumes.
8th July 2019

Author: Stephen Ball
---
Juvenile training break
Bohermeen AC Juveniles are on a break from scheduled training for a few weeks, parents of registered juvenile members will be texted when training is resuming in late July. Enjoy the break before training resumes.
21st June 2019

Author: Stephen Ball
---
Bohermeen AC. Mid Summer Solstice Christmas Party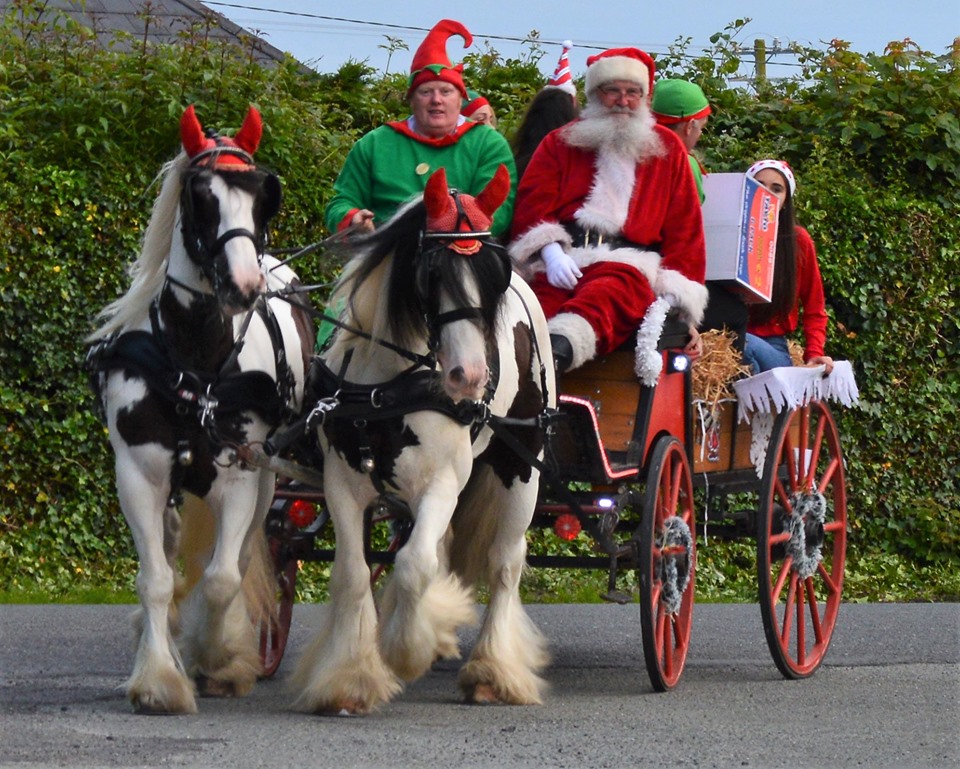 Well after June 21st 2019 a new chapter will be added to the history of Bohermeen Athletic Club, like most sports club who promote and contest their various sporting disciplines. But on this occasion we tested the limits of most people's imaginations as the great man himself was awoken from his summer Lair, to visit Bohermeen and all in a good cause. Sincere thanks to all who came along or supported the event in any way.
20th June 2019
Author: Stephen Ball
---
Mid Summer Solstice Christmas Party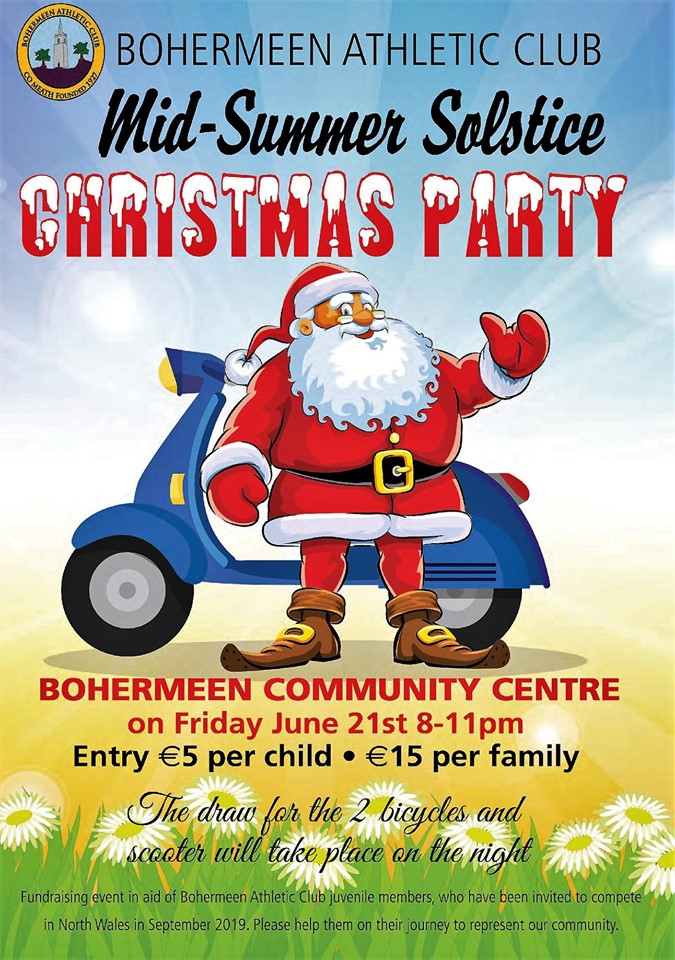 Friday June 21st 2019 will be remembered for one reason in Bohermeen, it's the day and for one night only the Christmas festive season is being re orbited to allow for this Christmas celebration in mid -summer. All it takes is a little imagination and the rest will happen. Hope to see everyone on Friday night .
19th June 2019

Author: Stephen Ball
---
Leinster Track & Field Championships.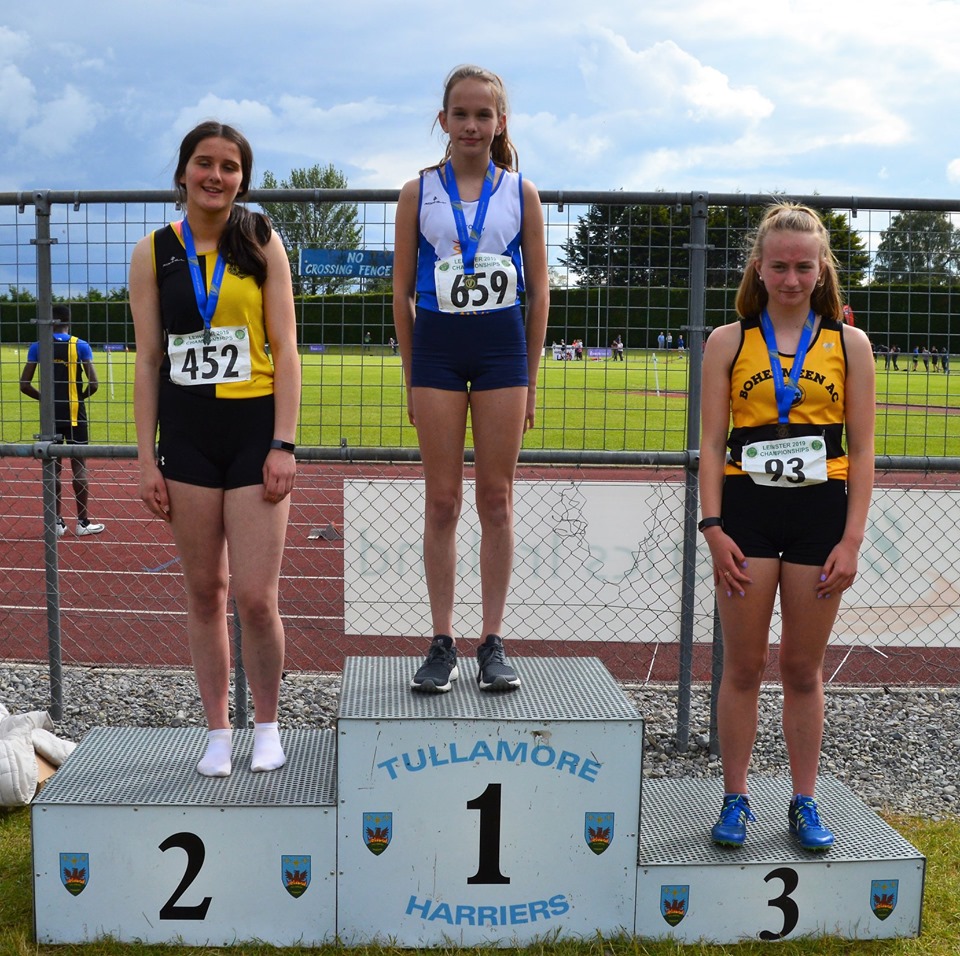 Well done to all our young people who took part in the Leinster juvenile track & field championships over the weekend in Tullamore and well done to all the young athletes from all the clubs that took part. Special thanks to all the officials for their time and help and courtesy at all times over the weekend.
11th June 2019

Author: Stephen Ball
---
34th Patrick Bell & Nicky Phillips memorial 5k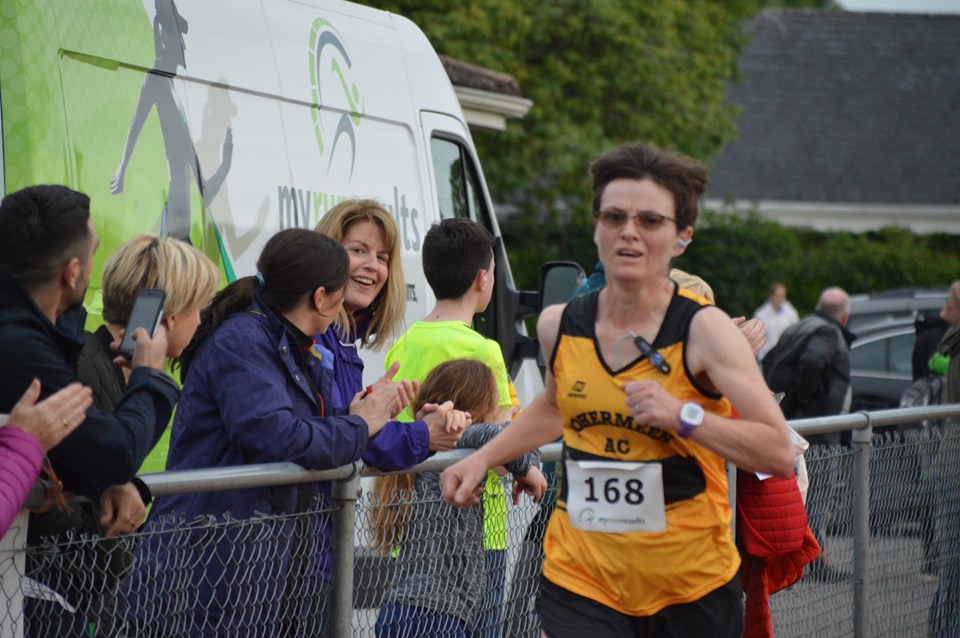 Well another year has gone a few more familiar faces may have left the stage and a few new ones have made their debut. The story of the event and there were many on the night, with two excellent individual winners in Peter Somba winning for the 4th consecutive year on his annual trip to Ireland in the colours of Dunboyne AC and Breege Connolly from the City of Derry Spartan.
31st May 2019

Author: Stephen Ball
---
Patrick Bell & Nicky Phillips memorial 5k run and walk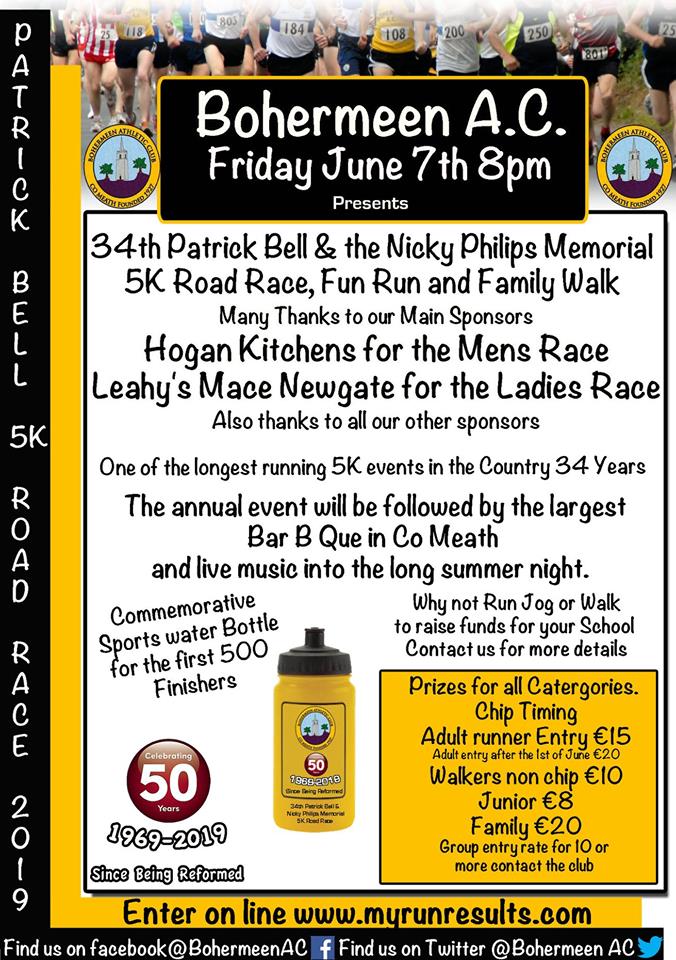 Bohermeen AC Promote the 34th Patrick Bell & Nicky Phillips memorial 5k run and walk on Friday June 7th at 8pm, the event is open to enter at www.myrunresults.com .The event is unique as runners of all ages and abilities are lined up behind the starting line, of what is reputed to be one of the fastest 5k courses in the Leinster region.


22nd May 2019

Author: Stephen Ball
---
Meath track relay Championships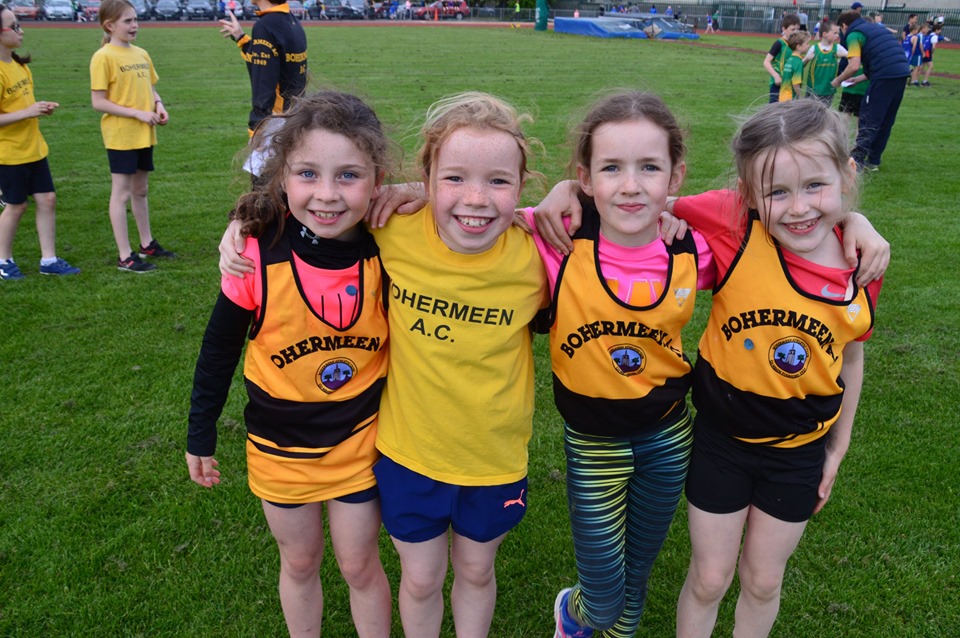 Congratulations to all of the 27 teams that represented Bohermeen AC last night in Claremont Stadium in the year that the club celebrates its 50th anniversary since being reformed in 1969 one couldnt be more prouder of all these young people who represented the club last night. The club realises the huge effort that both parents many who were past members and the children put in to get there and be part of a memorable night, as said many times before the there are no children standing on the Olympic podium but some clubs fail to recognise this, children are meant to enjoy not endure their youthful years with their friends in sport.

Thanks to Patricia for orchestrating the planning in advance to have 27 teams on the track and also thanks to Ollie, Annie, Olivia and everyone on the night that helped get every Boherrmeen athlete to the line that wanted to run. Many club members recently did an updated child course in sport and the word SQUAD was being repeated as being the way of inclusion in all clubs and last night we were very proud of our SQUAD.
18th May 2019

Author: Stephen Ball
---
Navan AC 6k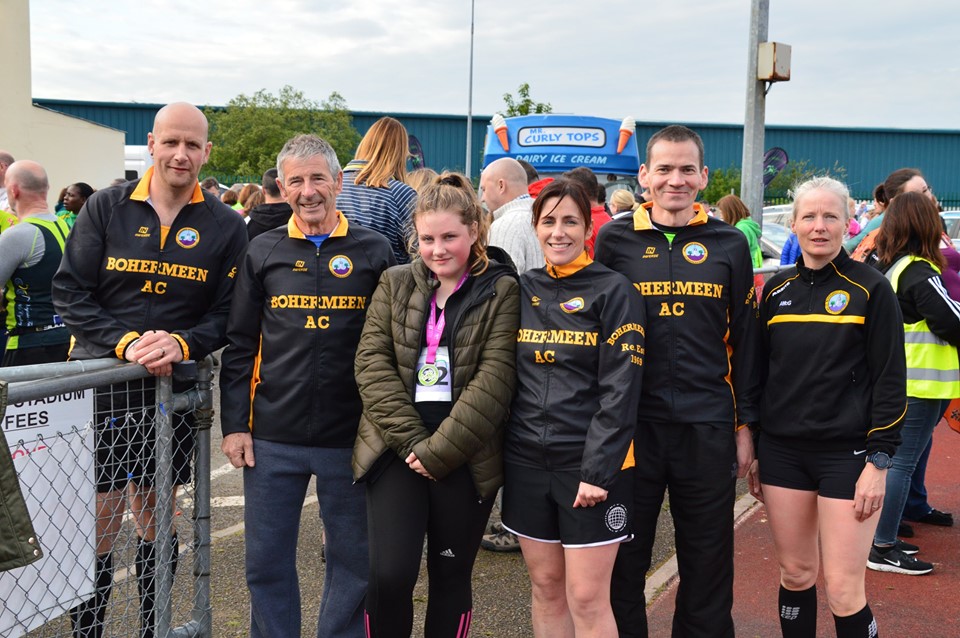 Great numbers from Bohermeen.
9th May 2019

Author: Stephen Ball
---
Royal County 5k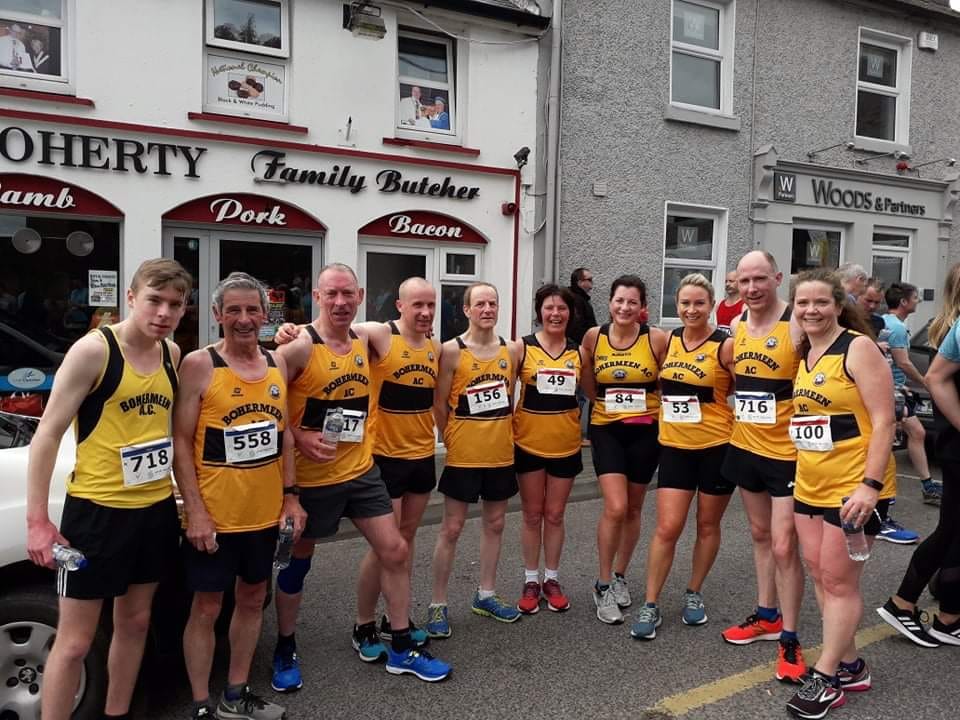 Most of the Bohermeen runners today at the Royal 5 and 10K.
22nd April 2019

Author: Stephen Ball
---
Moynalty 4 mile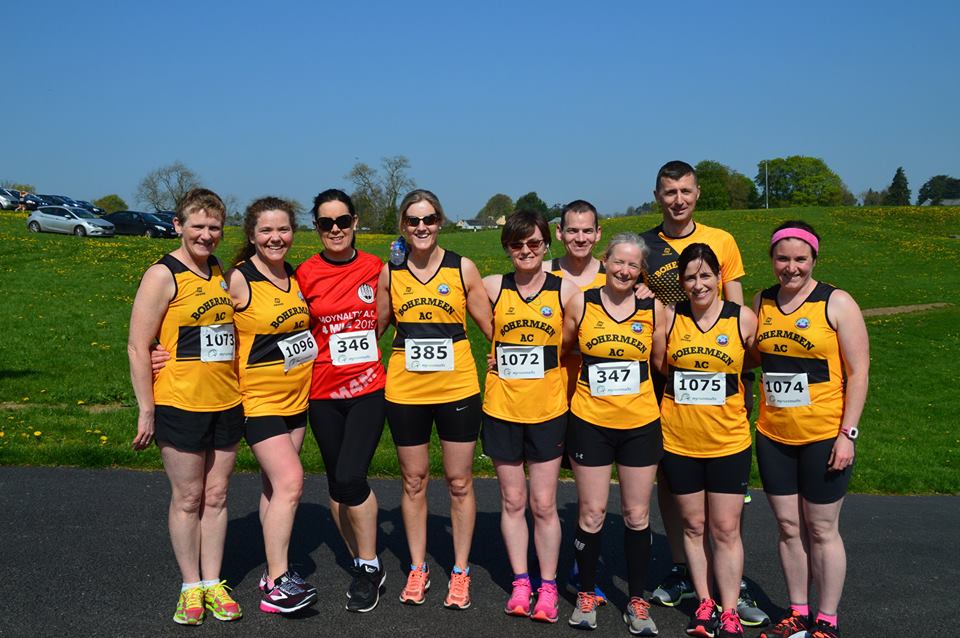 Well done to all Bohermeen AC runners that took part in todays inaugural Moynalty AC 4 mile road race, both our men's and ladies teams placed 3rd overall in the inter club contest.The event was historic in itself as it was the first open road race promoted by Moynalty AC who were founded in 2014, they can feel very proud of themselves after todays very well organised event.
17th April 2019

Author: Stephen Ball
---
Meath Track League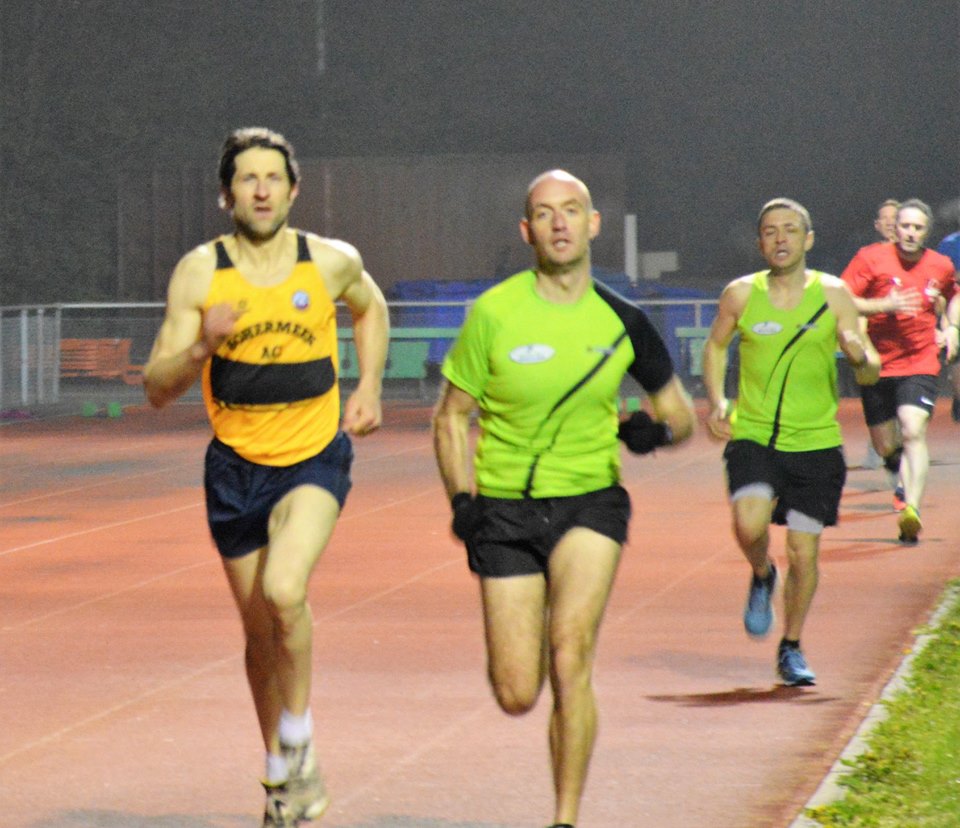 Pictured the opening lap of the Meath masters 800mts Meath track championship , held at Claremont stadium on Wednesday April 17th.Kevin Reilly on left came through to win in the final 50mts of a thrilling race. Bohermeen were represented on the night by 58 juvenile athletes and 6 senior athletes.
9th April 2019

Author: Stephen Ball
---
Bohermeen AC Breach Brexit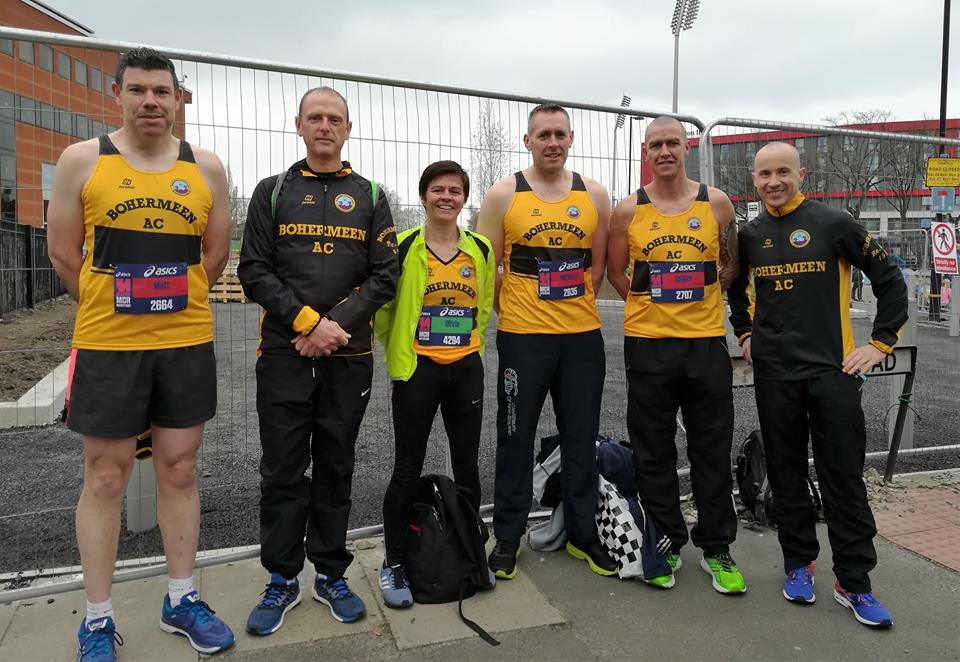 Bohermeen Athletic Club runners travelled to take part in the Manchester marathon over the weekend and now that they have returned to the green sod, its safe to report on their trip. They joined thousands off runners in fine spring weather and they all enjoyed their trip, maybe not all achieving personal bests, but there is always another day. But well done to everyone.

John Carroll continued his fine form over the past few months after a solid run in the Bohermeen half marathon in March, he posted 2-57.59 on Sunday and Shane McCabe posted 3-11.5 again a great performance and the Olivia Martin posted 3-16.08 a new Personal best and well deserved, she has been known to cover more miles in Bohermeen than the post man, Matt Moran 3-28.34,Bobby Tallon 3-30.07, Gerry Nealon 3-33.20. Adrian McNally 3-45. Well done to the Magnificent 7 men and one lady, its 26-2 miles and seriously well done to all.
24th March 2019

Author: Stephen Ball
---
Meath Road Relay Championship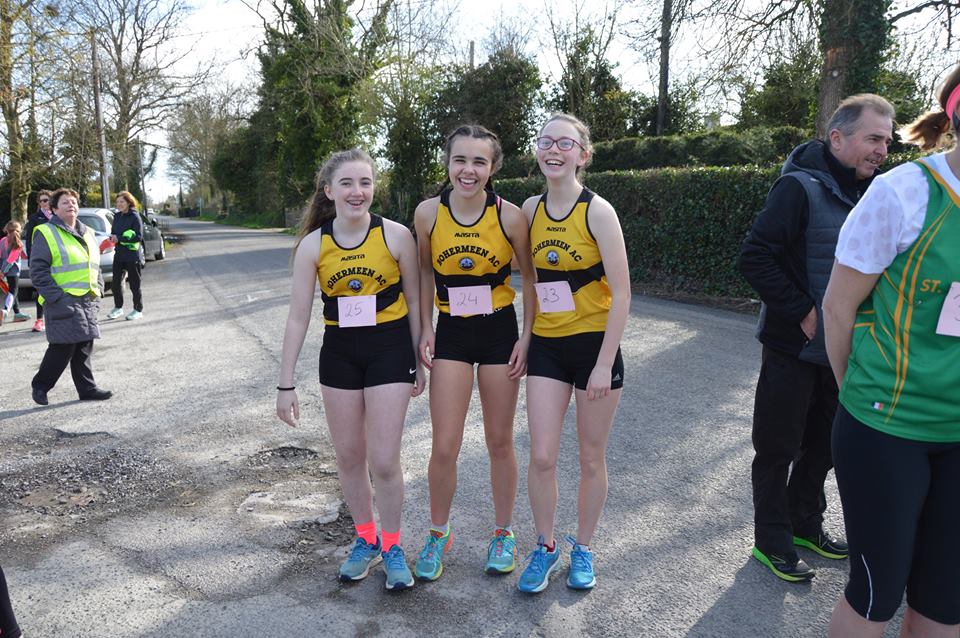 Meath Road relay Championships held at Bohermeen March 24th 2019.

Result

Men Grade A 1.Bohermeen 24-59 2. Ratoath A 25-09 3.Ratoath B 25-30 Men Grade B 1.Dunboyne 25-50 2.Cilles B 26-04 3.St Brigids 26-31 Men Grade C 1.Dunshaghlin 26-44 2. Cilles B 28-33 3.Duleek & District 28-34

Ladies Grade A 1.Dunboyne 29-08 2.Ratoath 29-50 3.Na Fianna 31-31 Ladies Grade B 1.Navan 31-50 2.Bohermeen 31-59 3.St Brigids 32-42 Ladies Grade C 1.Dunboyne B 32-28 2.Dunshaughlin 33-09 3.Fr Murphy 34-04
3rd March 2019

Author: Stephen Ball
---
Bohermeen AC win the Johnny Mullen Cup.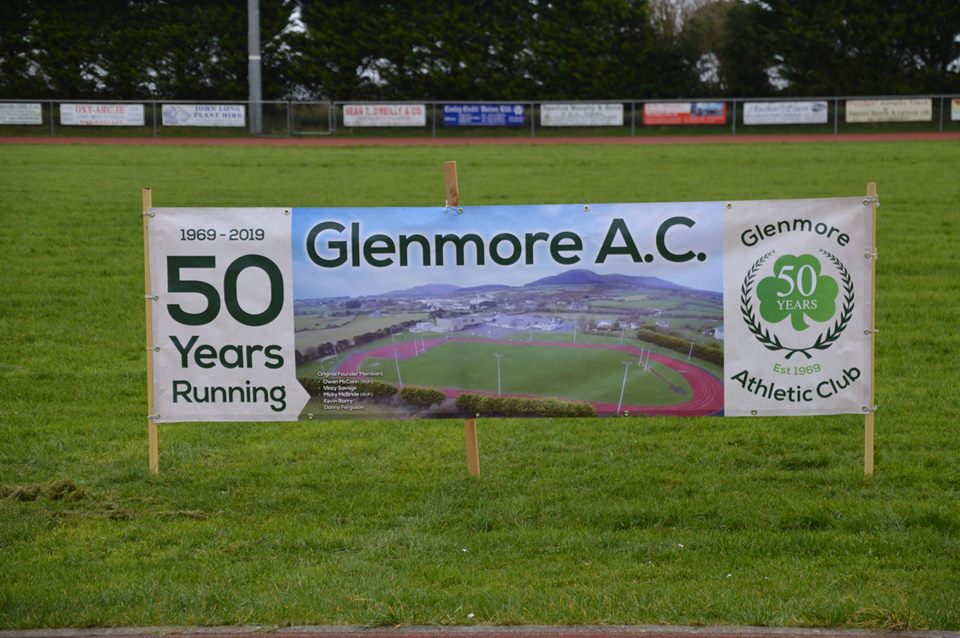 The combined efforts of more than 50 young Bohermeen AC juvenile members today helped to win the Johnny Mullen cup for Bohermeen for being the best juvenile club at the annual Kearney & McBride Cup promoted today by Glenmore AC in Co Louth.

Bohermeen resident Candela Sanchez from Spain played her part in Bohermeen AC cup win on Sunday when she took part in the girls under 17 race and was part of the winning team. Ironically the running on Sunday took place in view of the Cooley mountains where the famous Long Woman's Grave is herself being a Spanish Lady.
© Bohermeen AC 2020